Natalie
Posts by :
Blog
After you packed your bikinis and swimsuits, the next item in your holiday suitcase should be one or two beach shirt dresses. They are versatile beachwear that will serve you well on holiday. Worn on the beach for a casual look or dressed up in the evening with some snazzy accessories, a beach shirt dress will be your new best friend on holiday.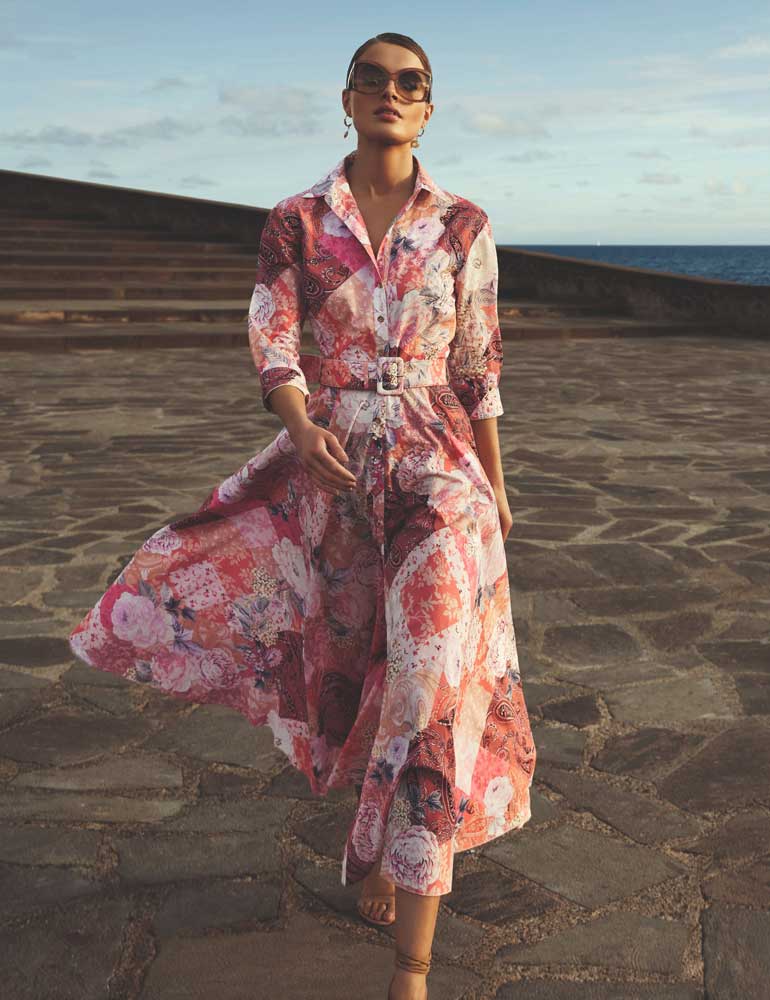 Beach Shirt Dresses
We've got lots of beach shirt dresses for you to choose from, but this blog post highlights some of our handpicked favourites. So what are you waiting for? Lets's dive right in and take a look at this season's must-have beach shirt dresses.
Romina Beach Shirt by Iconique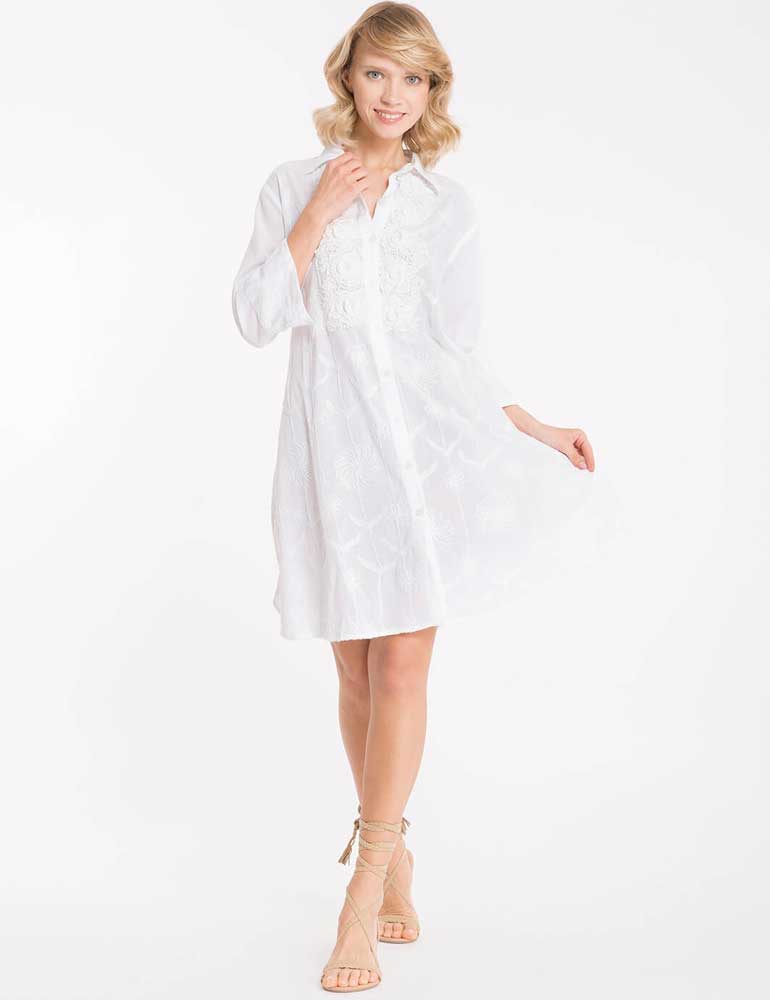 If you love florals then you are going to adore this Romina Beach Shirt by Iconique. This beach shirt dress has gorgeous floral embroidery all over it, with added detail at the lapels. Made of 100% white cotton, this dress will keep you cool in the midday sun. Other fantastic details include the ¾ length sleeve, the collar and of course the signature buttons on the front.
Shea Beach Shirt by PQ Swim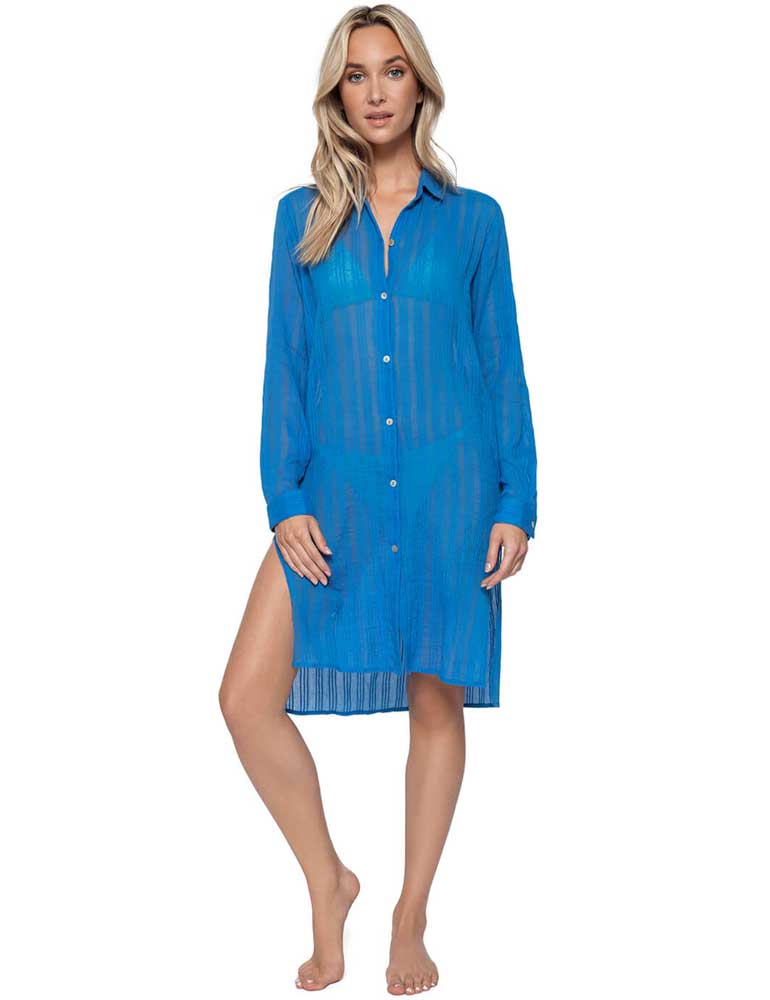 This stunning sheer beach shirt from PQ swim is a vibrant blue colour, with a fantastic stripe in the weave. You'll not be missed wearing this. The Shea Beach Shirt is an ideal cover-up to put into your beach bag. It's easily styled with its full-length buttons and will keep you cool whilst also adding a bit of extra pizazz to your beach attire.
Crinkle Button Down Dress by Pitusa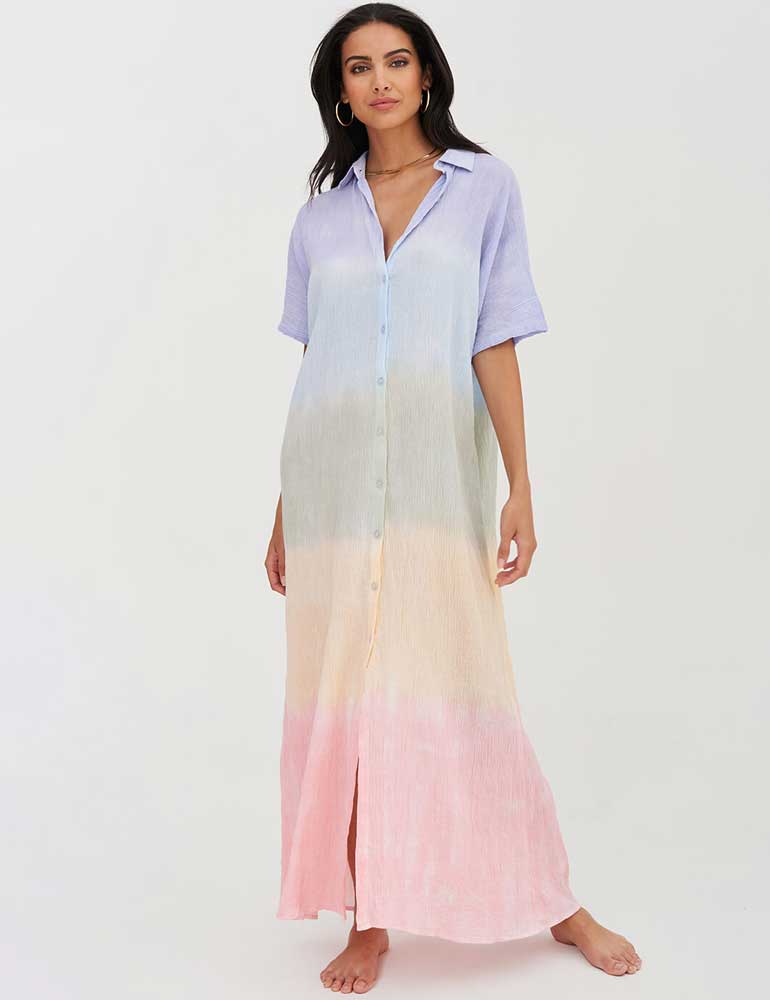 Beach shirt dresses don't come with much more wow factor than this Crinkle Button Down Dress from Pitusa. The rainbow transition down the dress is simply beautiful. This dress comes in two lengths, one standard for those over 5ft 4 and a petite size for those under. It's also 100% cotton which is perfect for long, hot, sunny days.
Euphoria Belted Shirt Dress by Maryan Mehlhorn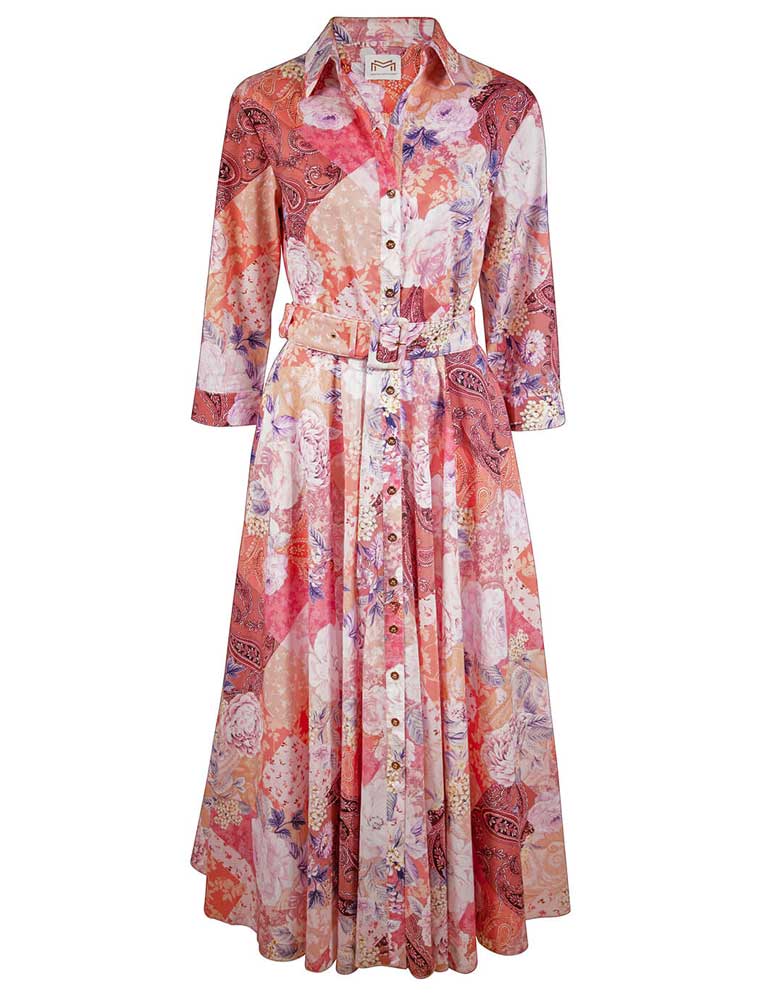 There's something so charming and elegant about the vintage pink and coral patchwork print on this Euphoria Belted Shirt Dress from Maryan Mehlhorn. Paired with the gold micro buttons, shell-covered belt and double-layered wide skirt and you've got yourself a pretty exquisite beach dress. Wouldn't you agree?
Oversized Beach Cover Up by Seafolly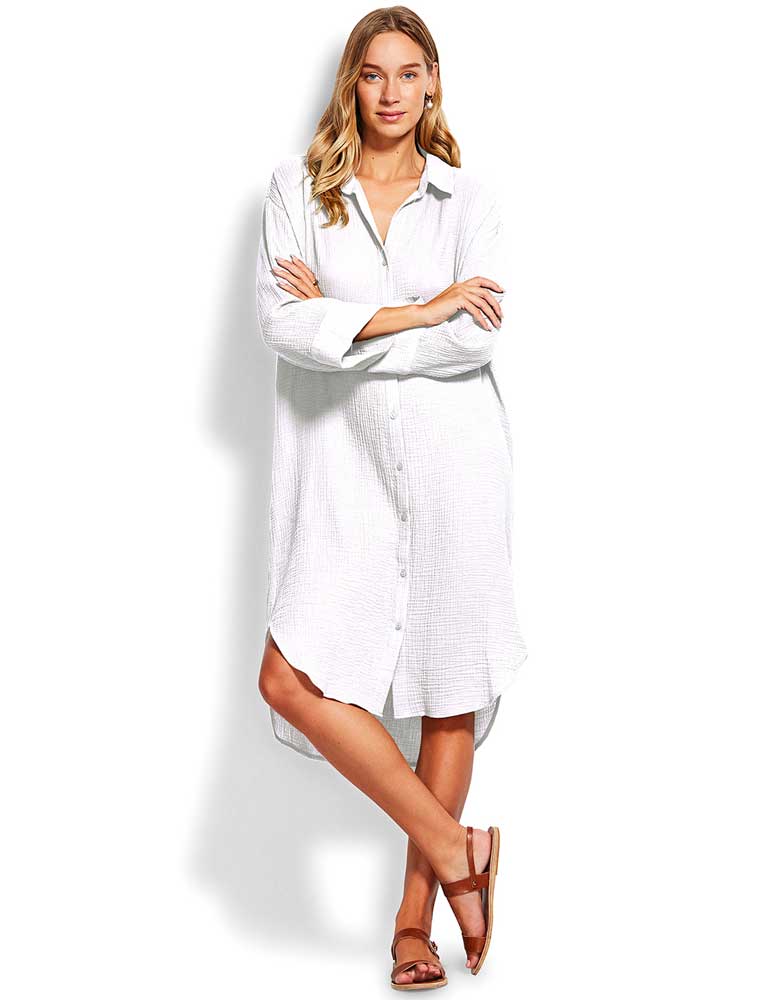 You really can't go wrong with a classic white, cotton beach shirt can you? It's an absolute staple as it will suit all shapes and sizes, plus also goes well with most bikinis and swimsuits. The Oversized Beach Cover Up from Seafolly is a perfect example of a midi-length button-down beach shirt. It's got a lovely relaxed fit, perfect for popping on when heading out of the midday sun.
Fantasy Resort Beach Shirt From Watercult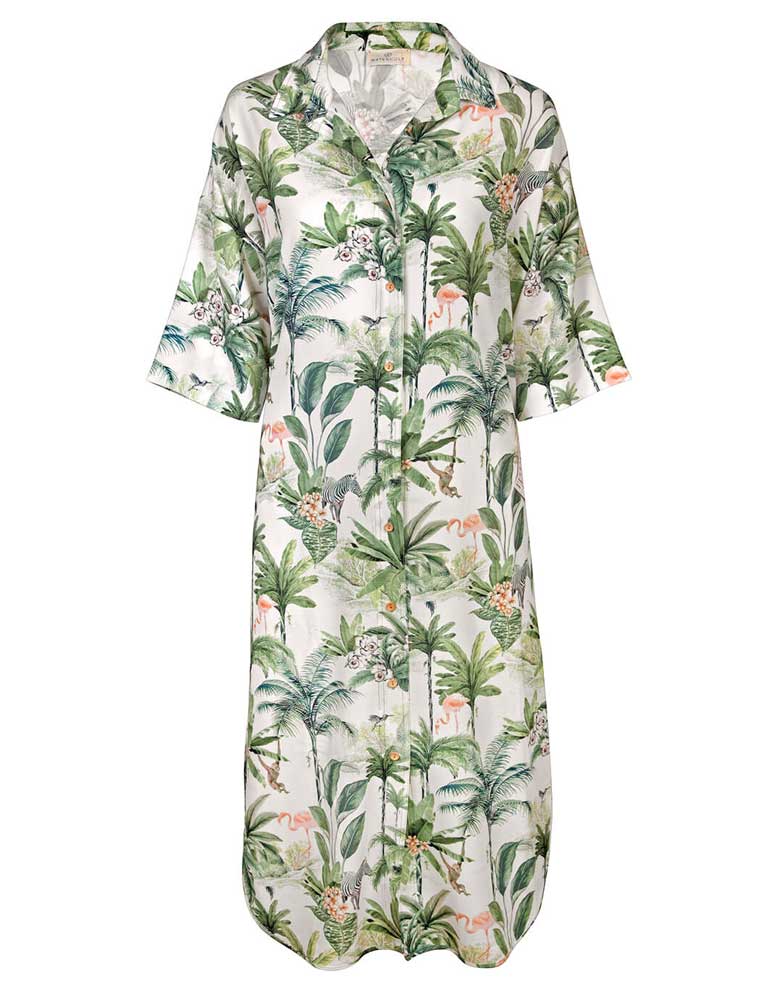 If you want to add a tropical feel to your holiday beachwear, then the Fantasy Resort Beach Shirt from Watercult is just the ticket. You'll be sure to fall in love with the flamingo, zebra and monkey print on this adorable beach shirt dress. This shirt has a fantastic collar, ¾ length sleeves and comes in a flattering midi-length.
So now you've seen our handpicked selection of beach shirt dresses, which one was your favourite? If not one of these stunning beach dresses was your exact match, why not head over and take a look at all the beach dresses we have on our site? You can filter down by size, brand or even colour. We are sure to have something you'll absolutely adore.
marysia
Caitlin McGauley is a watercolor artist, illustrator and textile designer that I have enjoyed working with time and again, starting way back in 2014. She started painting at a young age, and (luckily for me) fell in love with designing prints and textiles. Discover her wallpaper and fabric line, go back and learn more about her process for our Resort 2022 print, and get to know her better by reading our Muse interview below.
xoxo 
Marysia 
To you, Marysia is… 
Luxurious and laid back, ethereal and classic, a vacation that you never want to end.
What does the start and end of your day look like?

 
I wake up before the sun rises because my kids go to school so early. We live on a small island so I pour a very large cup of coffee and walk them over the bridge to get their bus. Then I walk back and get to work in my studio. At night, I am usually back in my studio tying up loose ends on projects, and then I read until I can no longer keep my eyes open!
What keeps you inspired and motivated?
Walking outside every day  for at least an hour if I can swing it. If I am dealing with a creative block, moving and being outdoors almost always helps me work it out.
What are 5 packing essentials that you take on a warm getaway?
Hat, sandals that work for the beach and exploring, one pair of heels that go with any dress, bikinis, and my travel watercolor set. I am always thinking about prints and patterns so I like to paint little layouts of the local flowers and leaves, and my kids use it to paint on shells.


Favorite place you've ever traveled to?
Paris and Florence for the art and architecture, Shanghai because it felt like I was in the future, Bahamas for the natural beauty.
What destination is at the top of your bucket list?
Venice, Copenhagen, Ghent…lately I have been dreaming of visiting European cities by the water.
Who do you admire, and why? 
The community of female artists and textile designers that I have found through starting my business. They are all so generous and willing to help each other. It is inspiring to watch everyone make the unique life that they want, building businesses, caring for their families, and supporting each other.
Best piece of advice for fellow female entrepreneurs and aspiring artists?
Set out to make something original. Ask yourself if the world needs it. Also making art, particularly watercolor, is like any other skill. You will find your style and become a better artist by practicing every day.
Blog
Skip To Main Content
Blog
We're taking you behind the scenes here at LSPACE HQ, a look into our print process and how we work our magic. From the drawing board to the sketching pad – it's exciting to see these designs come to life!
With Winter in full swing, we're looking forward to warm sunny days, and let's just say that this latest print drop gives us all the joy.
Our design team has been hard at work coming up with the latest and greatest prints for our Holiday Resort season and it's time that we introduce our last print drop of the season. Say hello to Wings N Things. This butterfly print is all things girly while being flirty.
This drop is filled with fun and flirty silhouettes while updating our classic cuts that you know and love: The Topanga One Piece and the Helena Top + Jay Bottom while introducing a new apparel staple: The Lila Dress. Don't call it a comeback, the printed Cassidy Dress gets an update in this sweet new print, too!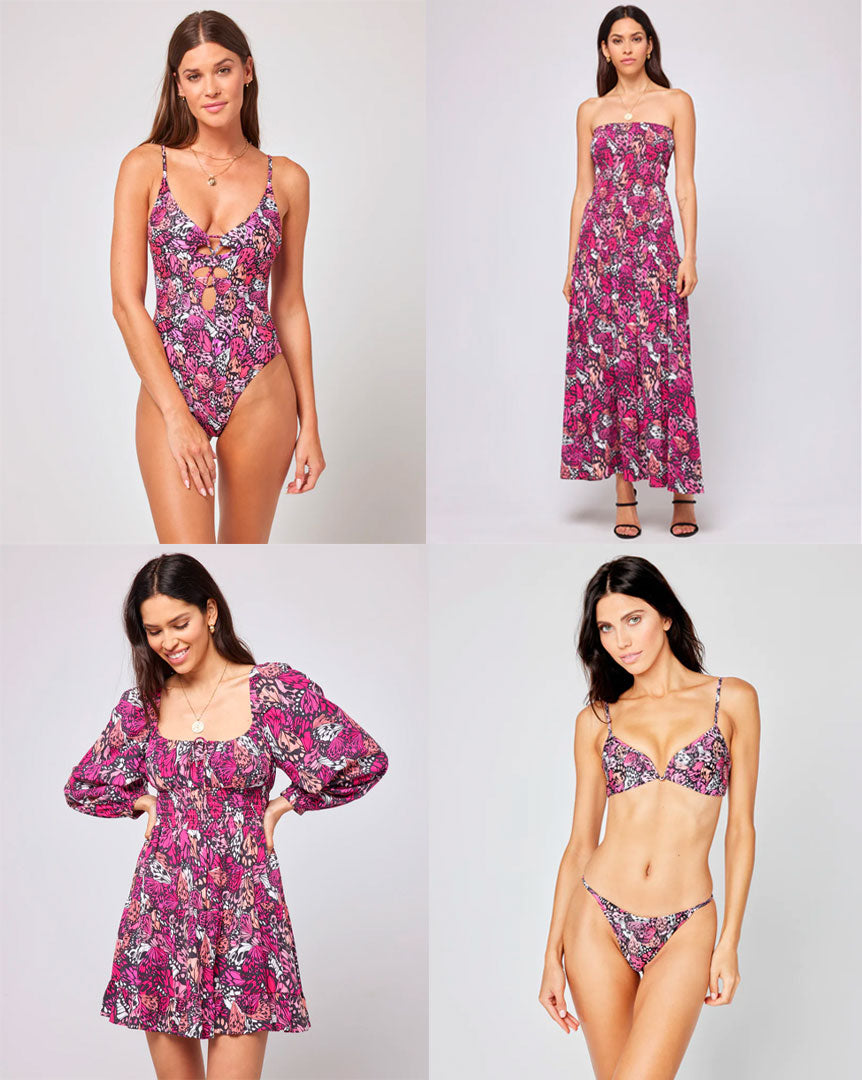 Get your hands on a Wings N Things print from this collection! The perfect mix of girly and flirty and will have you planning your next vacation. Let us know what style you love from our latest print drop and stay tuned for a sneak peek into our Spring Summer 23 collection, it's coming sooner than you think 😉
Watch the process come to life on our Instagram!
Shop the collection here!
Roses are red, violets are blue, we have our new pink collection just for you! Cheesy we know, but shop our valentine edit here! New pink swim and apparel have dropped! Shop the seriously sweet styles here!
Blog
Lace up swimsuits are so on-trend. All the top celebs are wearing them and it's easy to see why. They certainly turn heads wherever they are worn and always look fantastic on. So why not browse through our selection of lace up swimsuits and see if there's one or two that pique your interest?
Lace Up Swimsuits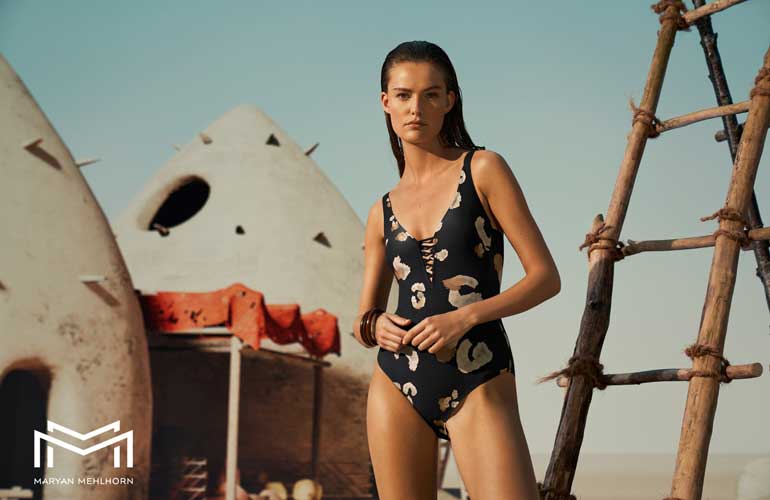 This style of swimsuit is a clever choice for all shapes and sizes. Being lace up, you can achieve the perfect fit. Many of our hand-picked lace up swimming costumes also come in cup sizes, so you can pick swimwear that is supportive as well as designed for your size and shape. We adore lace ups and we think you will too.
Fantasy Resort Swimsuit – Jungle Boogie by Watercult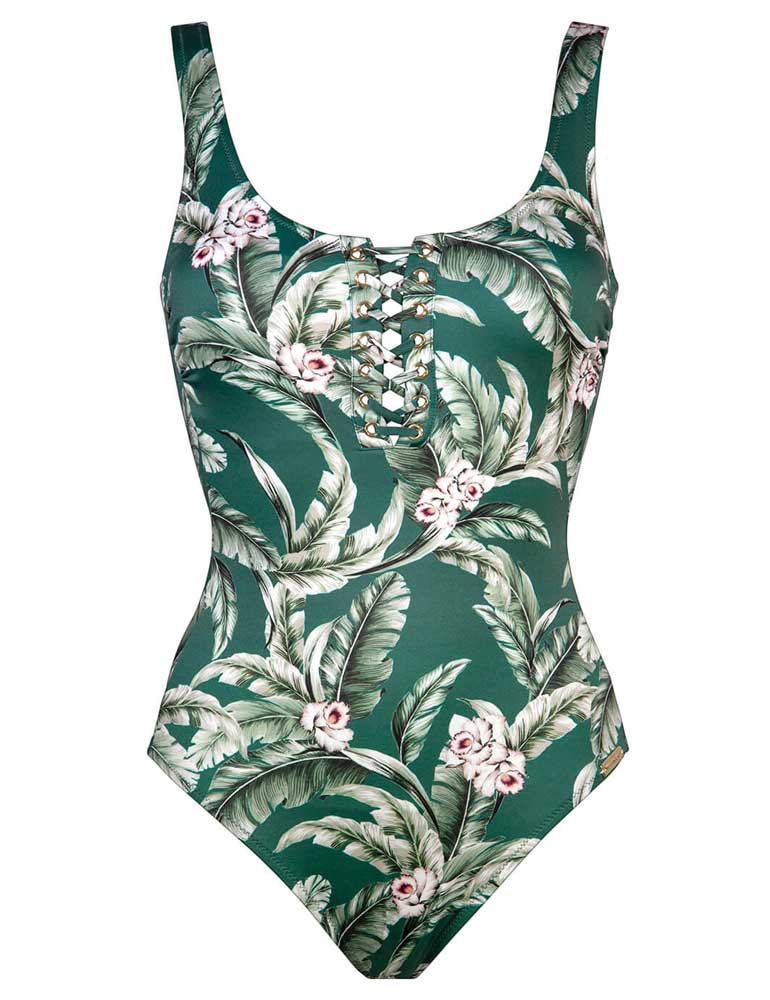 There's so much to love about the Fantasy Resort Swimsuit – Jungle Boogie from Watercult. Let's start with the awesome print on the swimsuit. The green leaf compliments the pale pink flowers perfectly and looks so stylish on the wearer. The front is lace up with removable cups. This lace up swimsuit is suitable for those who wear a C and D bra size.
Abstraction Plunge Underwired Swimsuit by Maryan Mehlhorn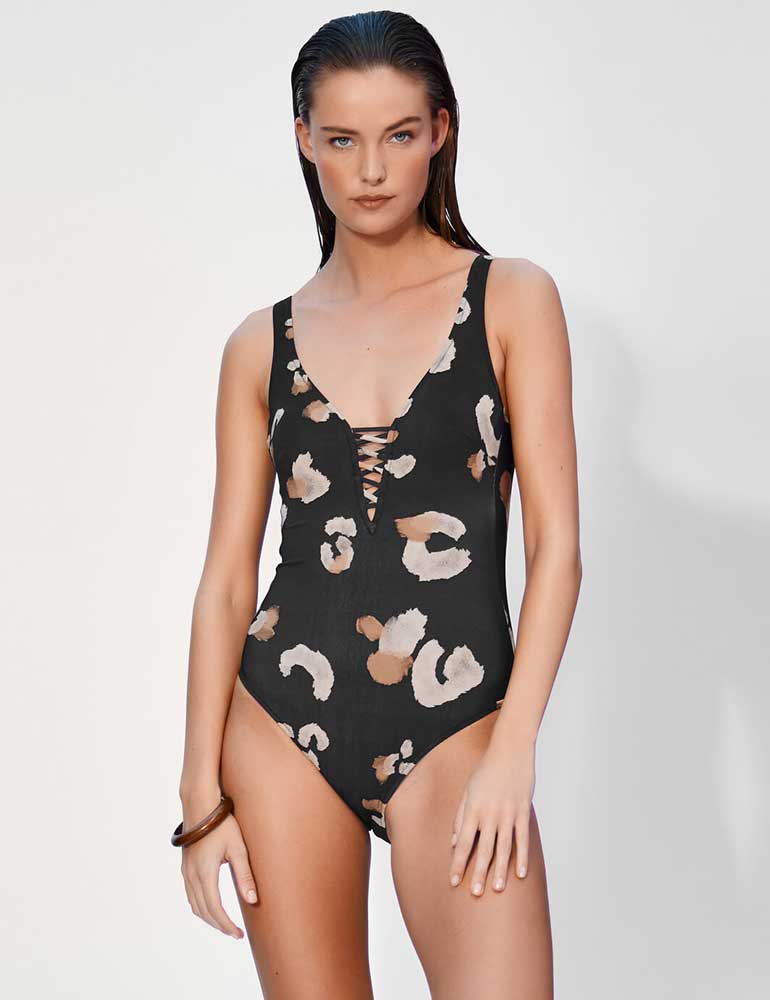 The plunge and lace up combination on this Maryan Mehlhorn Abstraction Plunge Underwired Swimsuit is to die for. You'll also go wild for the animal-inspired spots on this elegant swimsuit. This swimsuit is fully lined and underwired. Ideal for those looking for a high-quality swimsuit to feel fantastic in.
Basichic Icone Swimsuit – Black Stripe by Banana Moon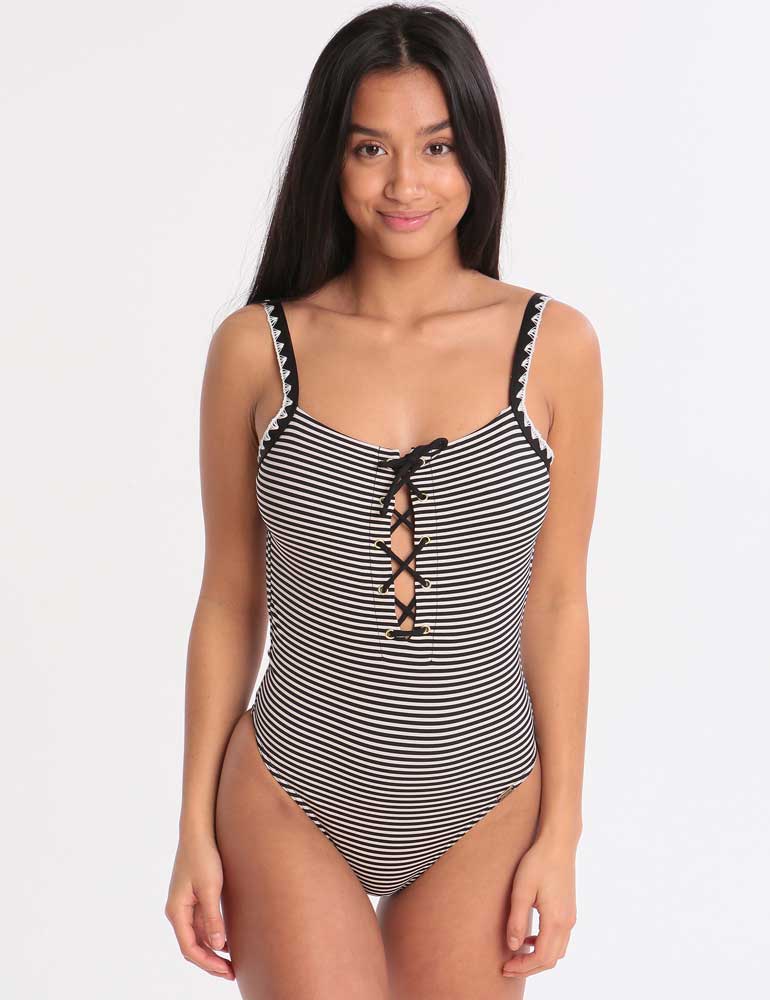 The nautical stripe on this stunning swimsuit is simply mesmerising and that's not the only thing. The low scoop back with adjustable straps make this lace up swimsuit an absolute winner. Basichic Icone Swimsuit in Black Stripe by Banana Moon is ideal for those who are looking for a lace up swimsuit but don't want any extra padding across the bust.
Soul Spots Strappy Swimsuit – Black by Watercult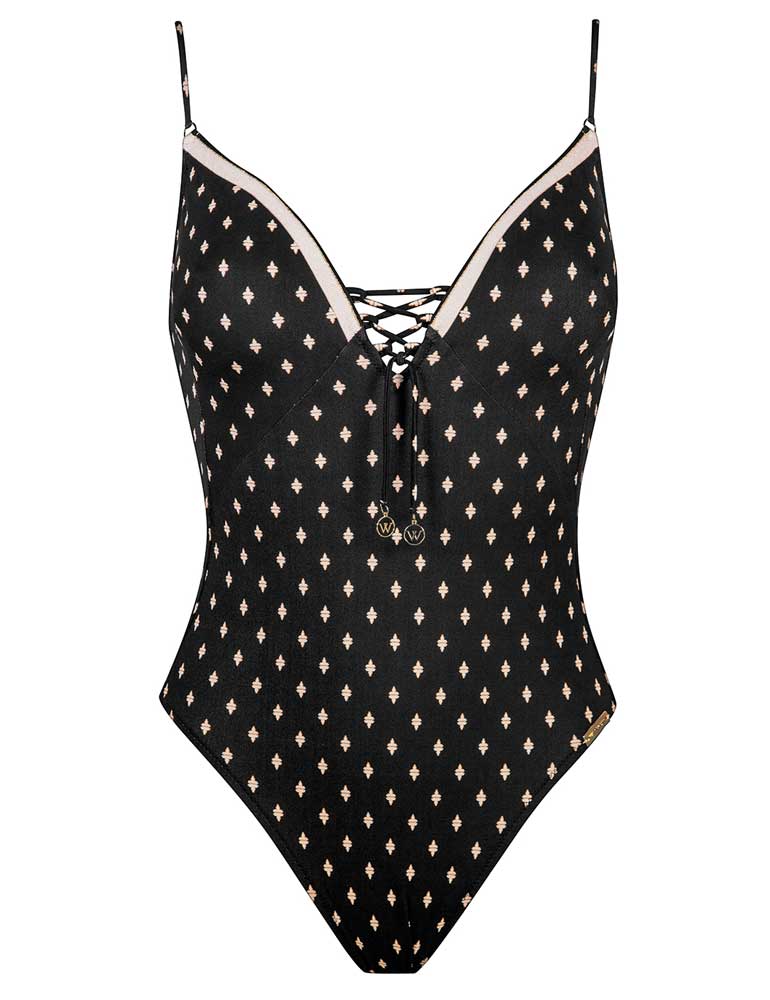 This swimsuit from Watercult is pleasing to the eye from both the front and the back. You'll go dotty for the classic combination of oat and black multi-dimensional spots in this Soul Spots Strappy Swimsuit. The spaghetti straps are adjustable to achieve the perfect fit. Win win!
Discovery White Gravity Underwired Swimsuit by Maryan Mehlhorn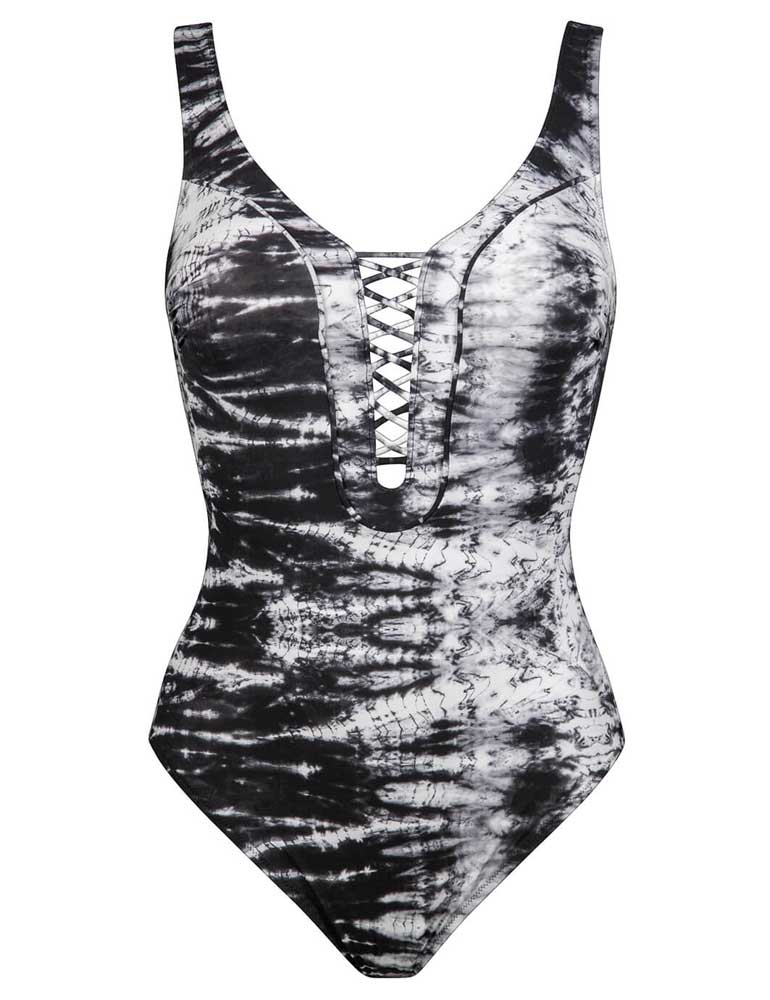 This is the dream lace up swimming costume for those needing a bit more support across the chest. Available in C and D cup sizes, this Discovery White Gravity Underwired Swimsuit by Maryan Mehlhorn is underwired with a bust shelf. The lace detail at the front is understated, just like the gorgeous black and white design of this swimsuit.
Denim Cues Lace Plunge Swimsuit by Watercult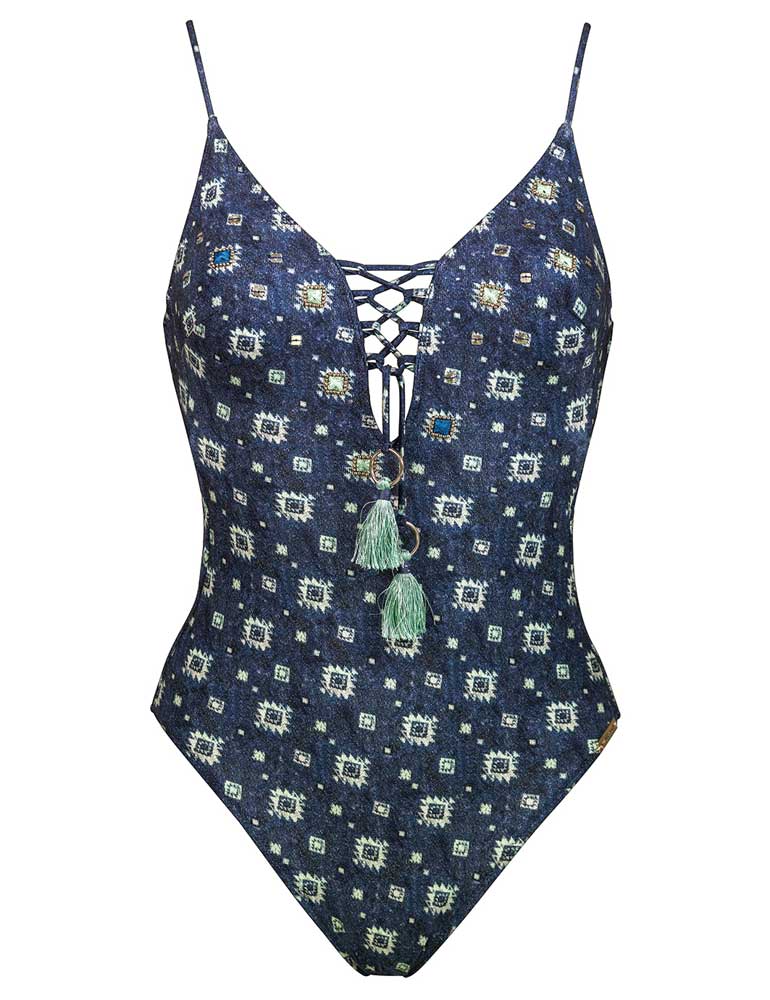 If you are looking for lace up swimwear with the wow factor, then this Denim Cues Lace Plunge Swimsuit by Watercult is the one you've been waiting for. The print against the deep blue is truly magnificent, but when you factor in the embroidery and metallic beads, you've got a gem on your hands. The lace up detail and the smart, supportive back really elevate this swimsuit to another level.
Pace Plunge Swimsuit – Navy White by Maryan Mehlhorn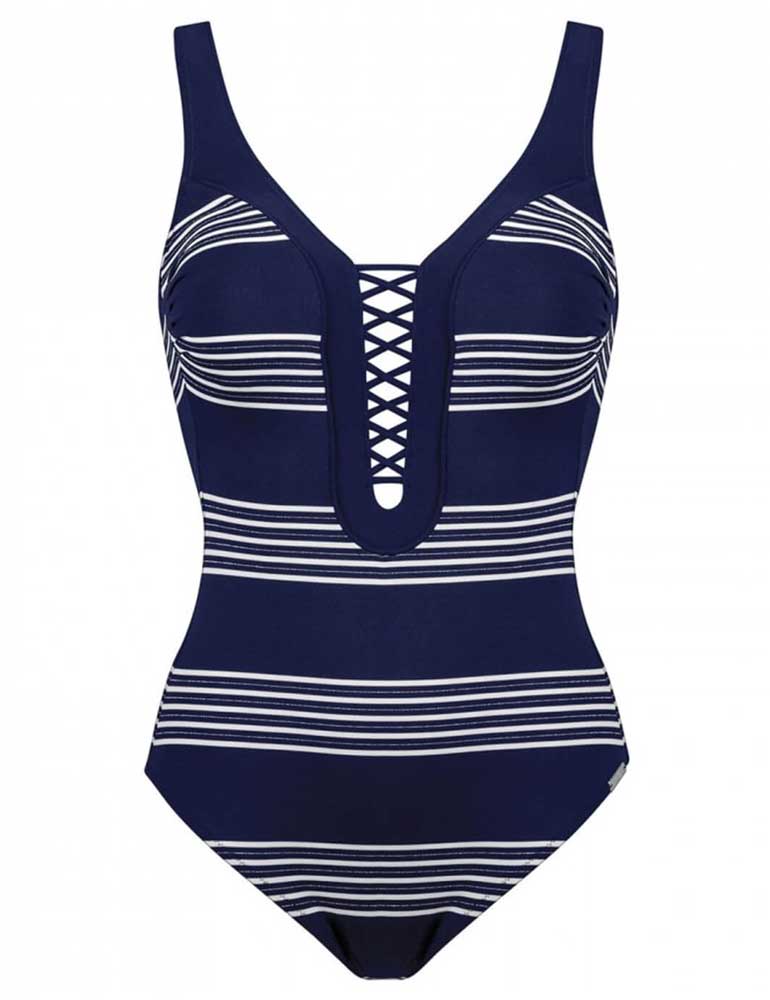 The final choice in our line up of lace up one piece swimsuits is this exquisite blue and white striped Pace Plunge Swimsuit by Maryan Melhorn. This swimsuit quietly shouts classic and classy in one breath. The quality of this range speaks for itself and wearing this superb swimsuit will make you feel like a million dollars. Of course, you'll look like it too as the lines on this swimsuit will make your figure look even more amazing. What a showstopper!
So have you picked a favourite from our hand-picked selection of lace up swimsuits? Go on, pop one in your online basket. You too can look like a celeb on the beach this summer with your amazing new holiday swimsuit. Don't forget that we have so many more styles to choose from, so if these swimsuits don't offer you the look you like, take a look at all the swimsuits we have on our website.
Blog
With 2023 fast approaching (like, hello can we slow it down for a bit?? k thx) We asked team LSPACE for some New Year's resolutions. Check out a few of the intentions our gals are setting this year!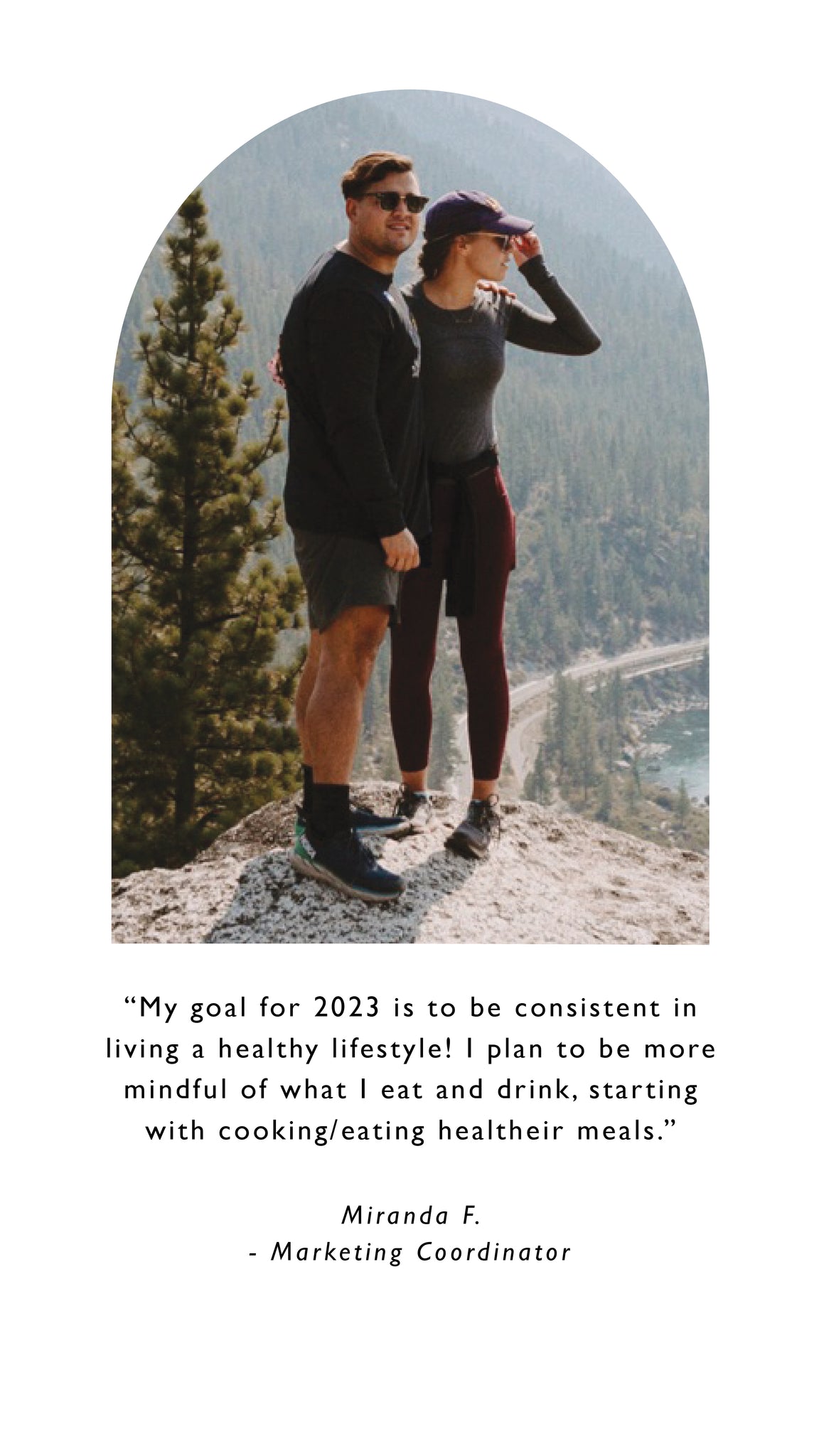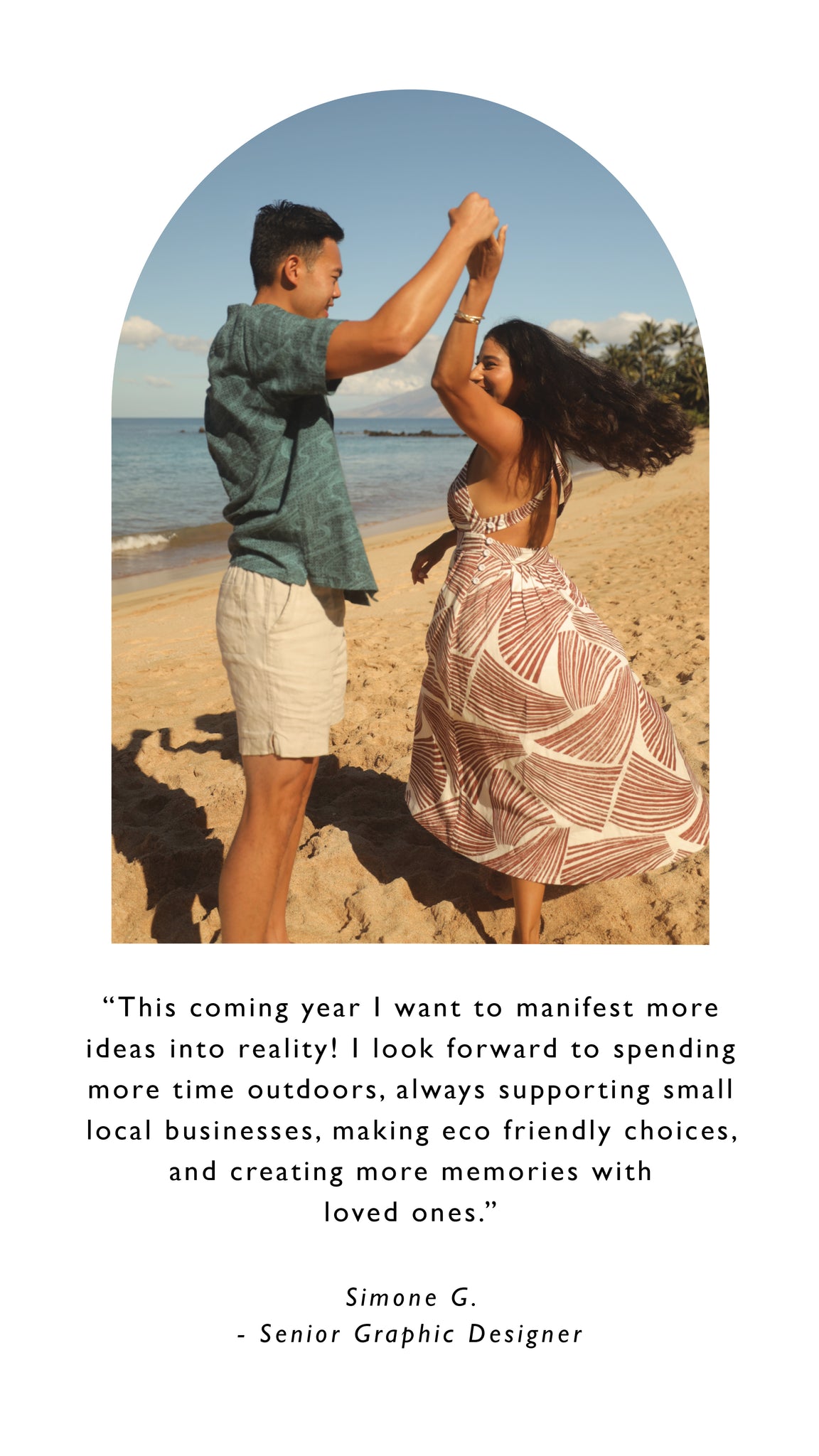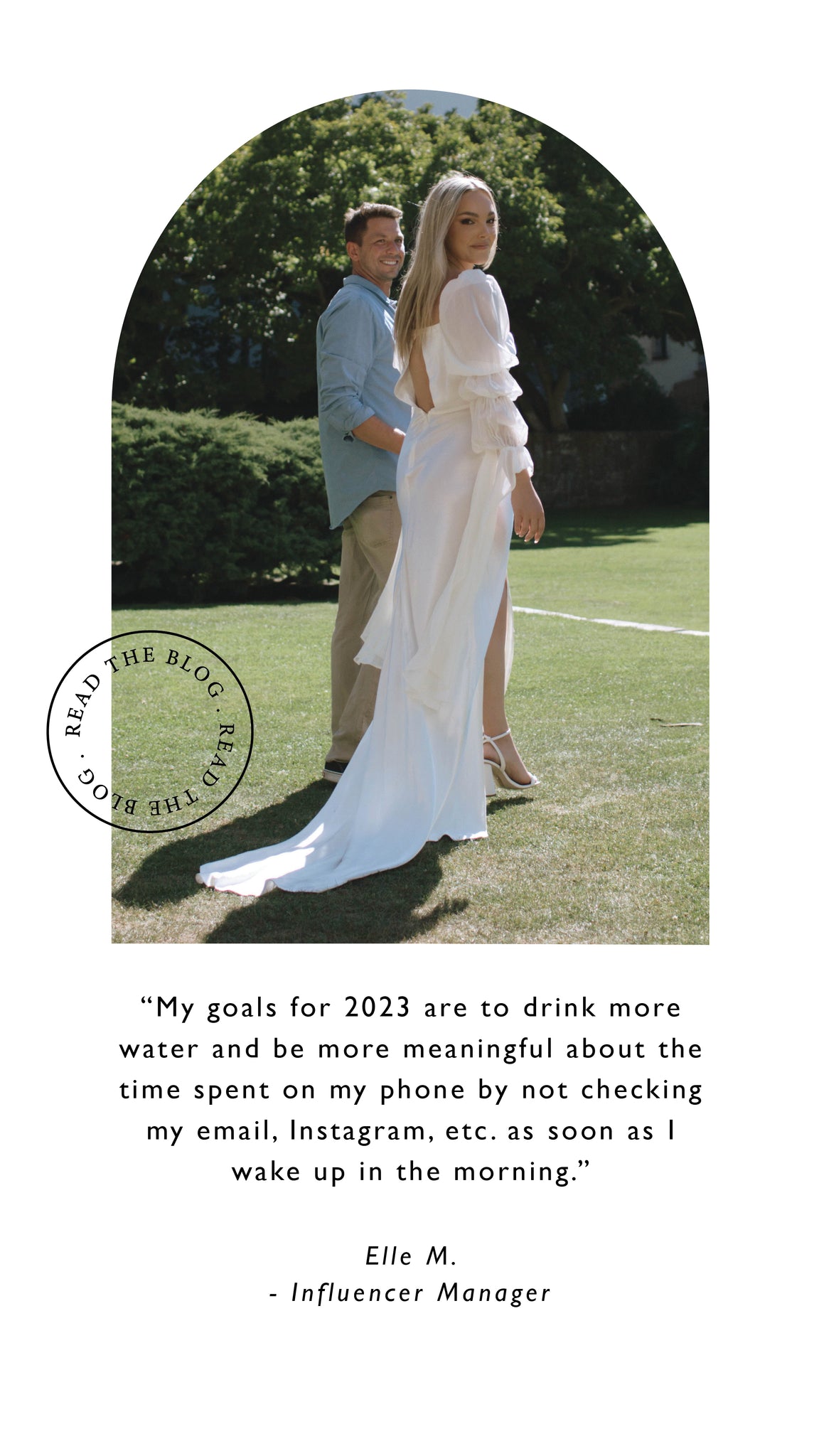 + Looking for a New Year wardrobe refresh? Shop New Arrivals here!
Blog
Thinking of your upcoming holiday? You'll want to get your holiday wardrobe sorted before you head to the airport. We at Simply Beach can help! We've got lots of lovely styles and can help you choose your holiday bikini. So no matter what type of break you are heading away for we've got lots of suggestions for holiday bikinis for you to browse through.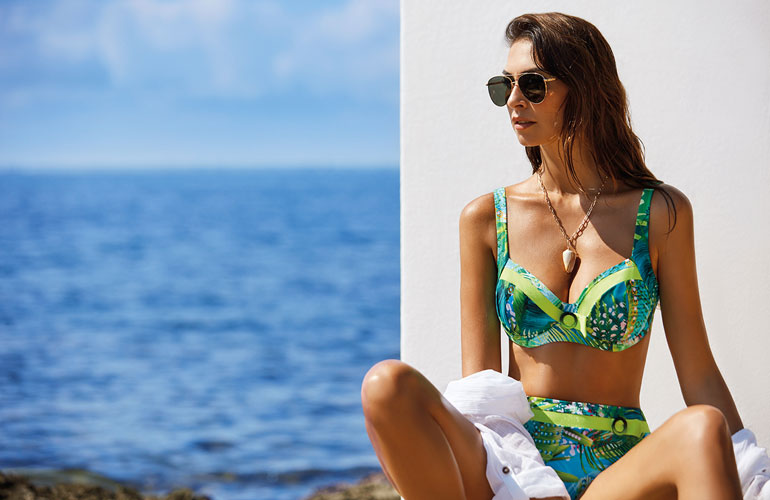 Holiday Bikinis
On The Beach Holiday Bikinis
Fantasy Resort Underwired Bikini by Watercult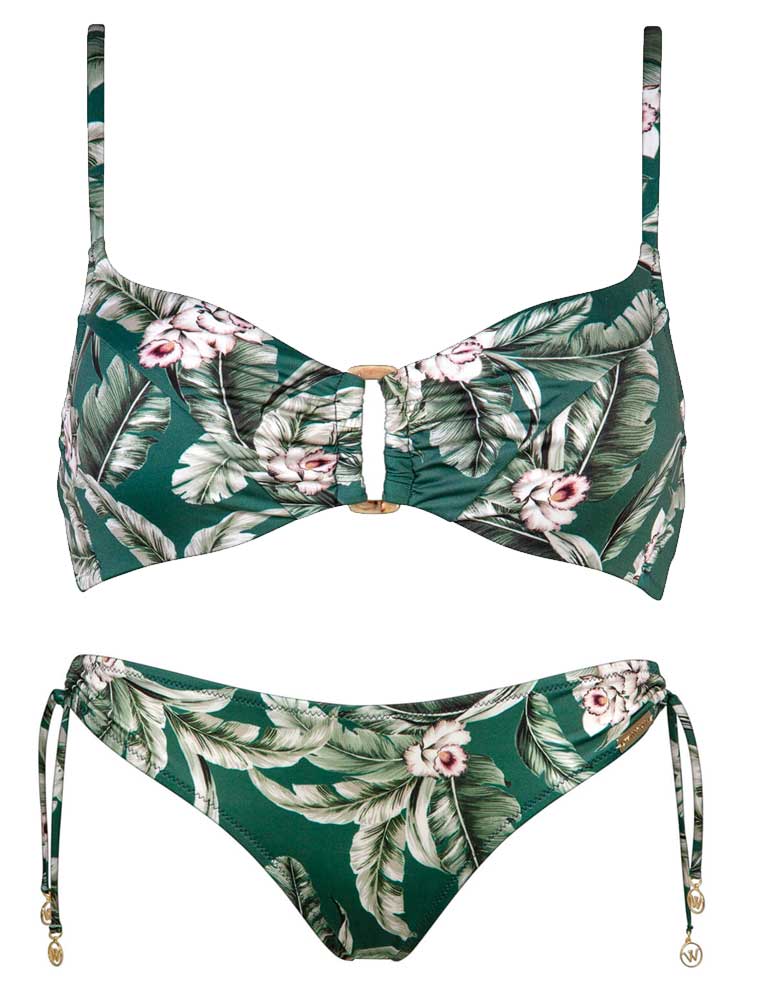 The pretty Fantasy Resort Underwired Bikini from Watercult is understated and exquisite at the same time. You'll look fantastic on the beach in this bikini's green leaf and pink flower print. Team this underwired bikini top with the hipster-style Fantasy Resort Bikini Pants for a cohesive beach look.
Tita Blue Shaye T-Back Bikini by ViX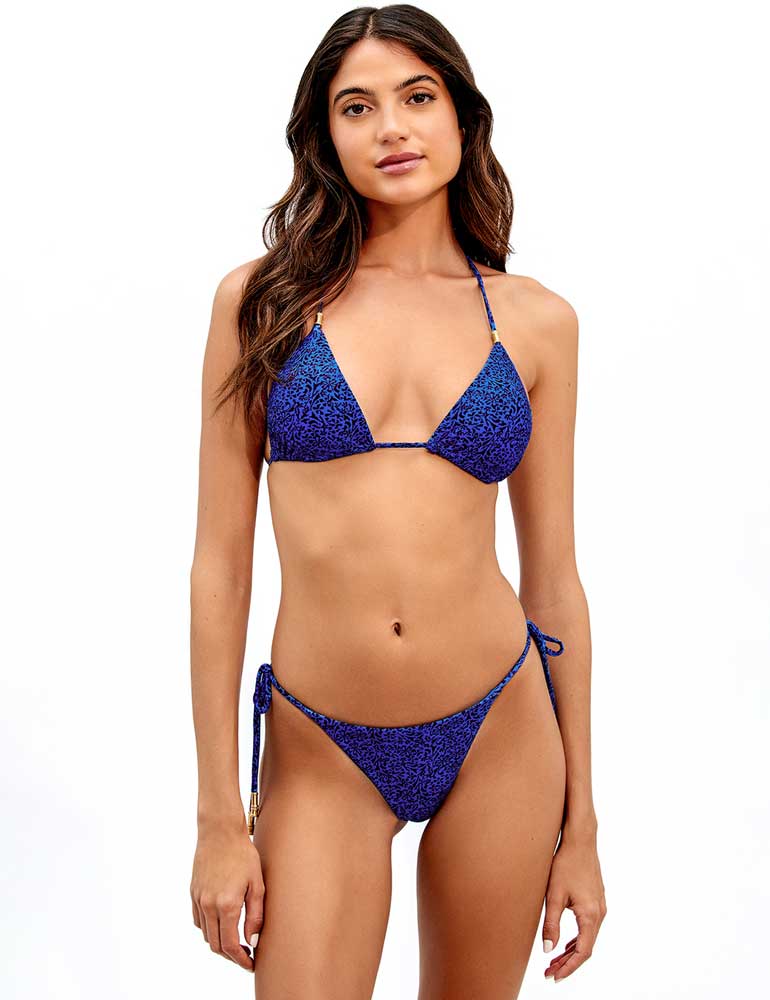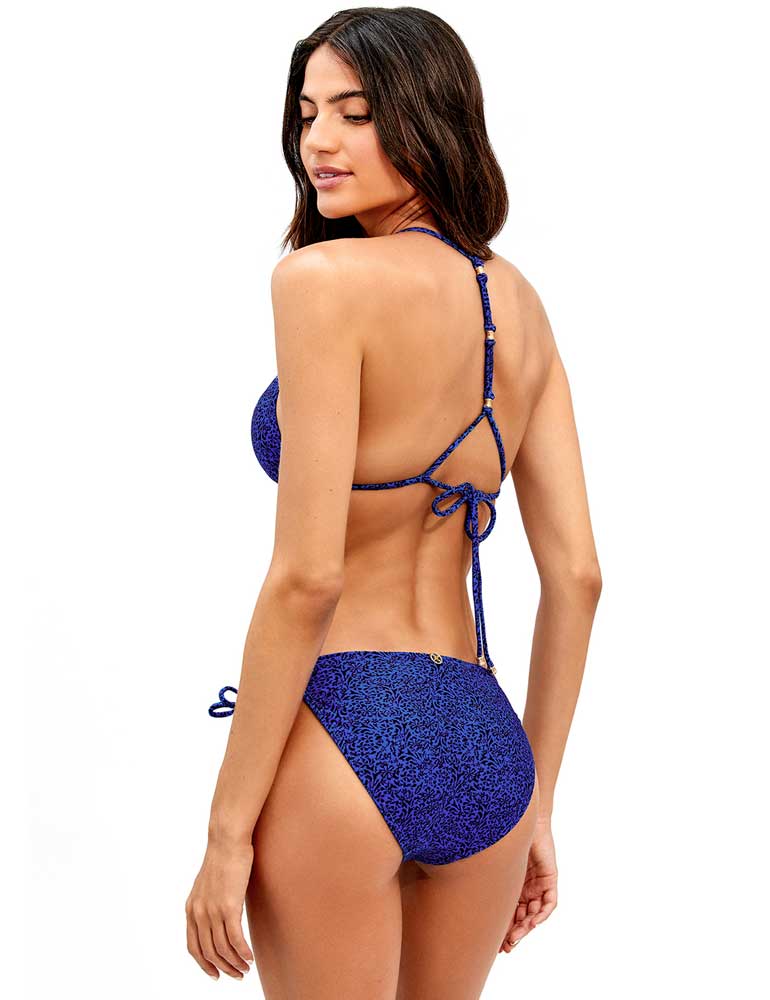 For a bikini with the wow factor, you should take a second look at the Tita Blue Shaye T-Back Bikini from ViX. The bikini top has a sensational T-detail back with 24-carat gold-coated beads. The matching Tita Blue Shaye Tie Side Bikini Bottoms are equally as stunning.
Winter Sun Holiday Bikinis
Zahara Bustier Bandeau Bikini by Seafolly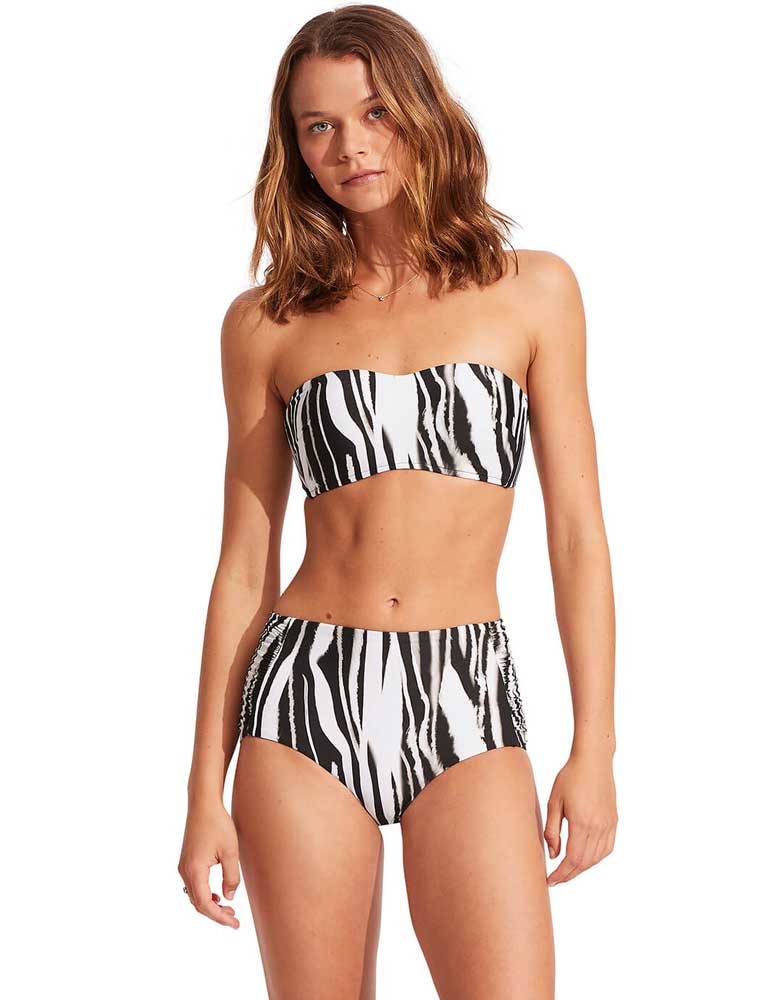 We adore the zebra print on the Zahara Bustier Bandeau Bikini from Seafolly. The bikini top has an optional adjustable strap, gripper tape and a clip back. This bikini is also made with recycled nylon and matches perfectly with the Zahara Ruched Side High Waisted Bikini Bottoms. The bikini pants are high-wasted, with full coverage with a low leg line.
Jungle Balcony Bikini by Nuria Ferrer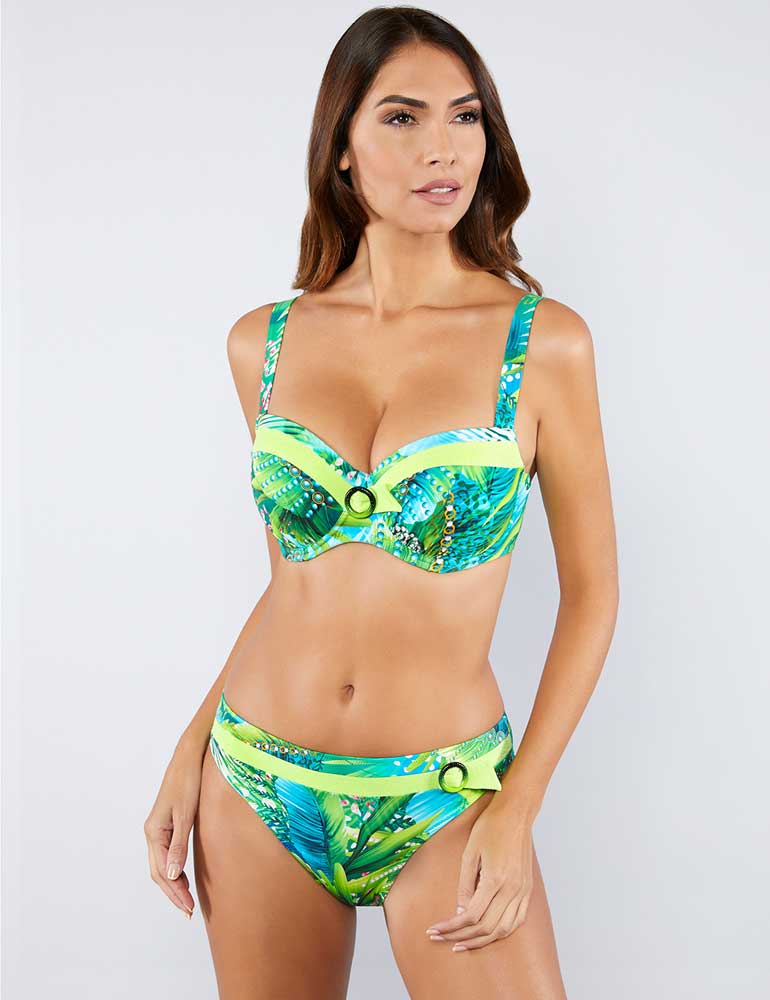 The tropical print with lime green banding on this Jungle Balcony Bikini by Nuria Ferrer is sure to turn heads on your winter sun holiday. Available in D, E and F cups, you can pair your perfectly fitting bikini top with the equally aesthetic full-coverage bikini bottoms. You'll fall in love with this print again and again.
Active Holiday Bikinis
Collective One Shoulder Bikini in Black by Seafolly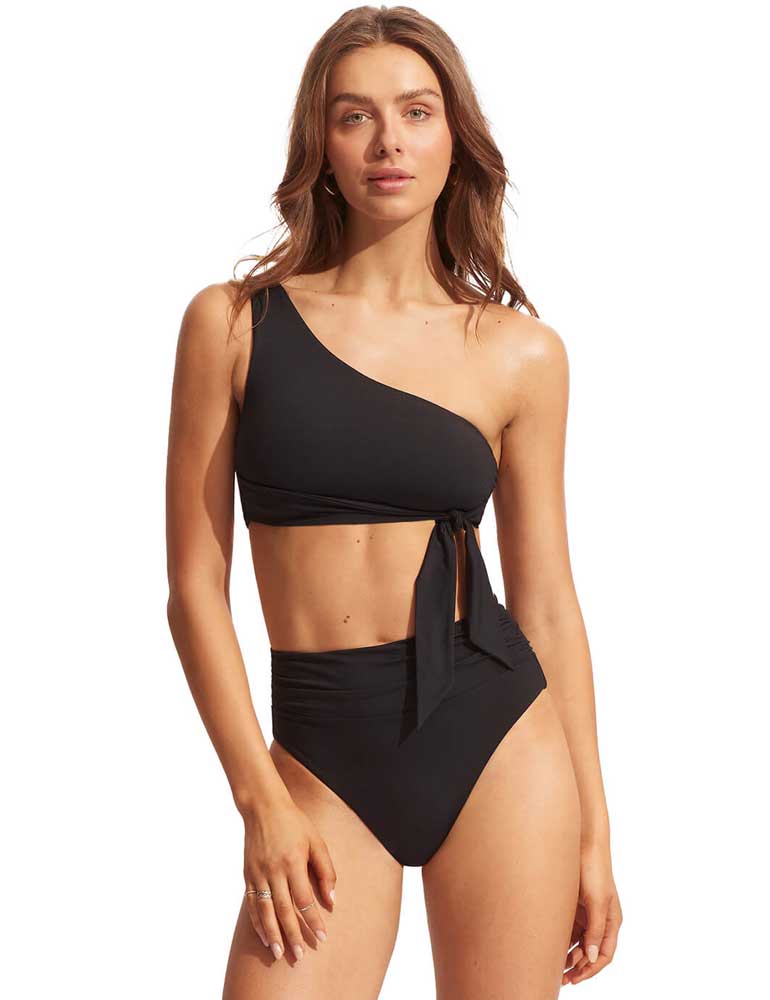 Not only is this Collective One Shoulder Bikini from Seafolly super chic, but it also offers good coverage across the bust and removable cups. The side boning helps this bikini stay put. Team the bikini top with the matching high leg, high waist Collective High Cut Rio Bikini Bottoms.
Lingadore Wander Bustier Top and Brief Set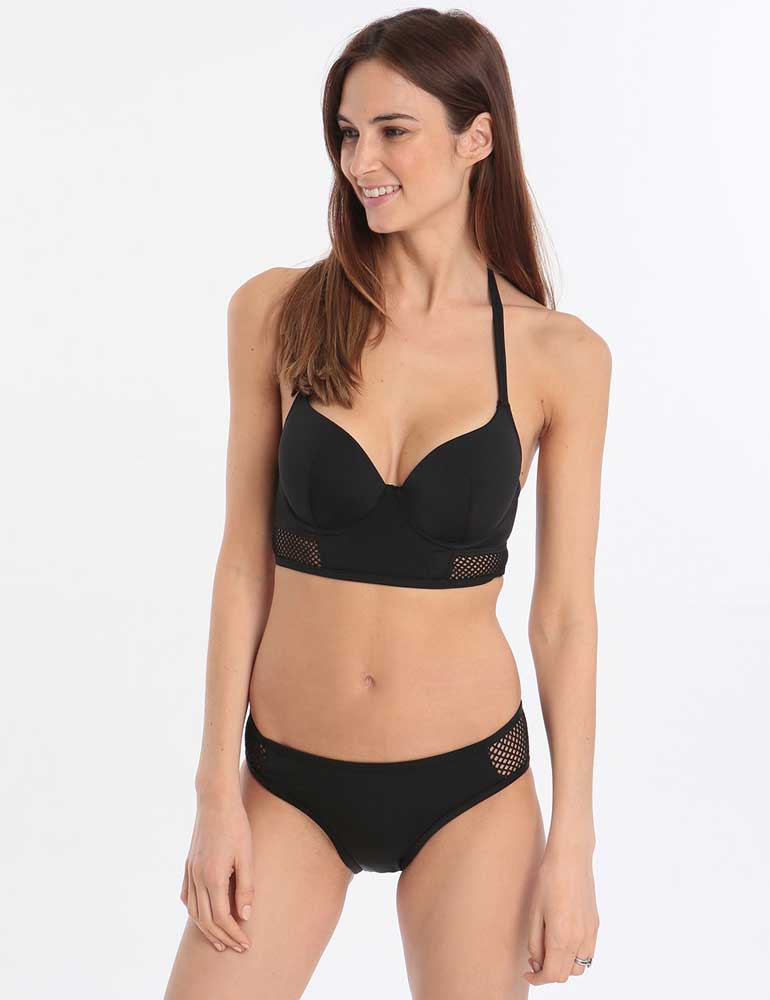 Offering superb support, this black Lingadore Wander Bustier Top and Brief Set not only has a halter neck but is non-padded and underwired. The bikini top is perfect for B – D cup sizes and comes with hipster pants with the matching mesh feature.
By The Pool Holiday Bikinis
Expedition Underwired Bikini by Maryan Mehlhorn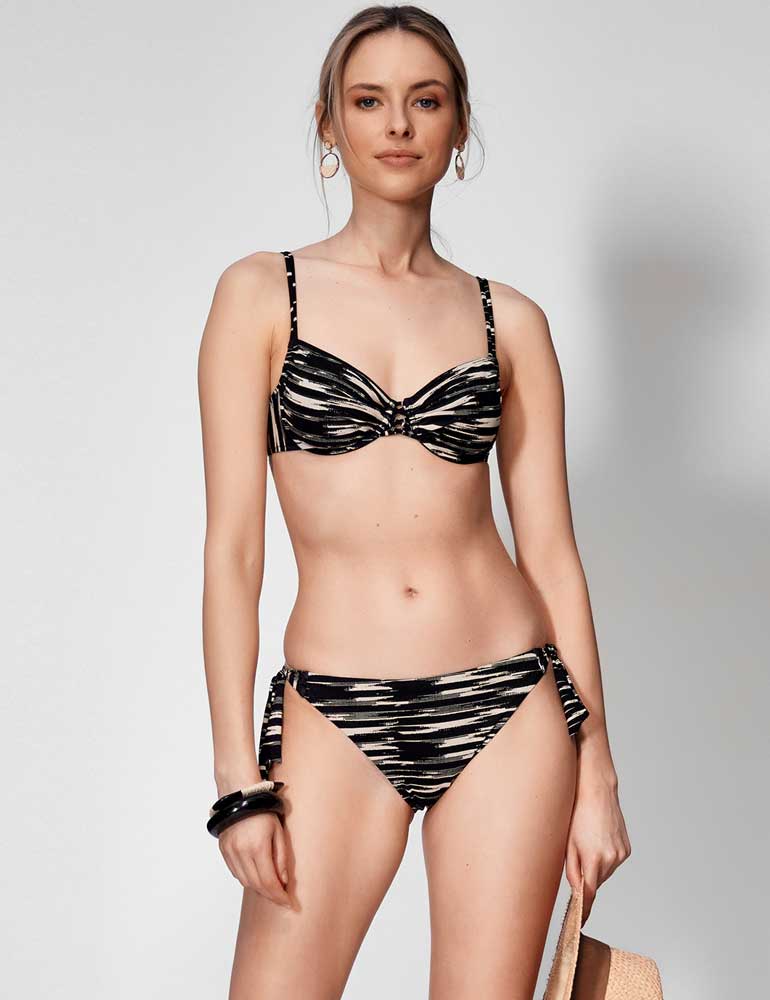 This sophisticated black and cream print bikini from Maryan Mehlhorn is perfect for wearing by the pool. The Expedition Underwired Bikini Top features underwiring, a clip back and double adjustable spaghetti straps. Pair this eye-catching bikini top with the matching Expedition Tie Side Bikini Bottoms which offer moderate coverage and are lined.
Green Waters Underwired Bikini in Aqua Flow by Charmline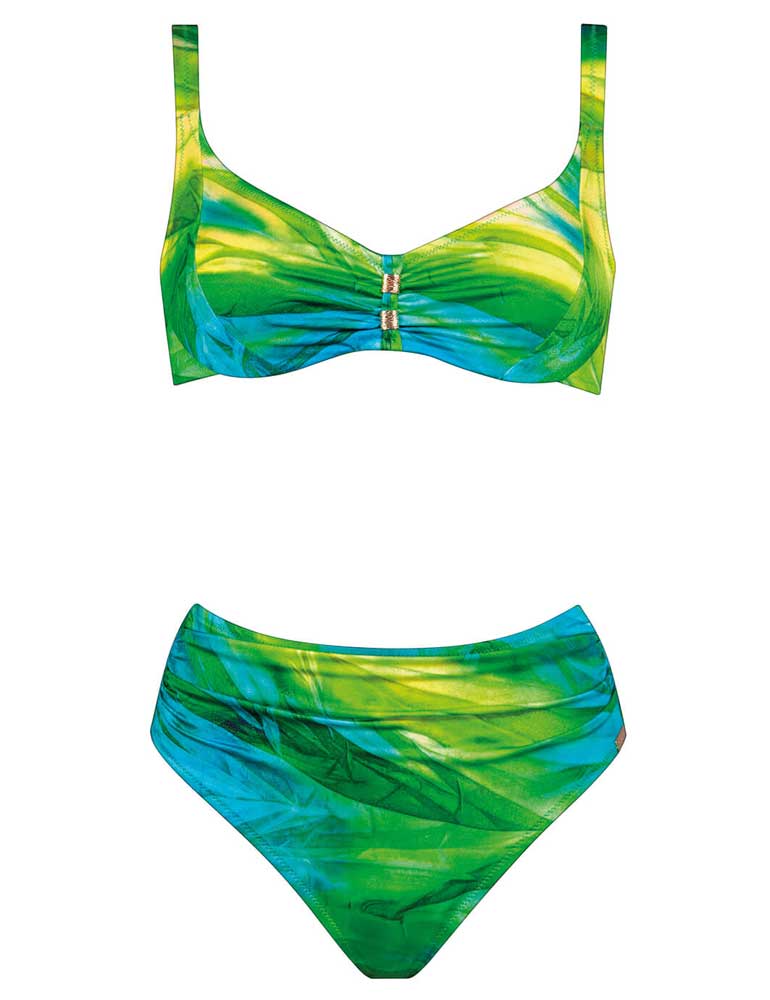 Ideal for an eye-catching look by the pool, this Green Waters Underwired Bikini by Charmline has metallic gold coloured beading at the front. The bikini top is underwired with adjustable straps and pairs perfectly with the high-waisted, full-coverage bikini bottoms.
We hope our suggestions have given you some inspiration for your upcoming holiday. If you want to browse our whole range of holiday bikinis, head over to our bikini collection.