Blog
Whether you're a gym newbie or a rowing class regular, our new activewear collection is designed to fit seamlessly into your on-the-go life. Pack up your bag with the essentials (we're using the roomy zippered Weekender Duffle) and get prepped for your next sweat sesh. Read on to see our 6 gym bag must-haves!
This one's a no brainer – you'll need a workout set you can throw in your bag and change into after work. We love the snap front Underdog tank because it has great support, ultra soft ribbed fabric, and a flattering silhouette.
Go for a matching moment by pairing the Underdog tank with the ribbed Hot To Trot leggings. The mauve hue is girly yet elevated, making these active essentials anything but basic.
Stay hydrated (and make the eco-conscious choice) with a refillable glass water bottle from bkr. The small opening makes no-spill sipping a breeze, and the chic silicone outer grip is functional and stylish. Ah, how refreshing!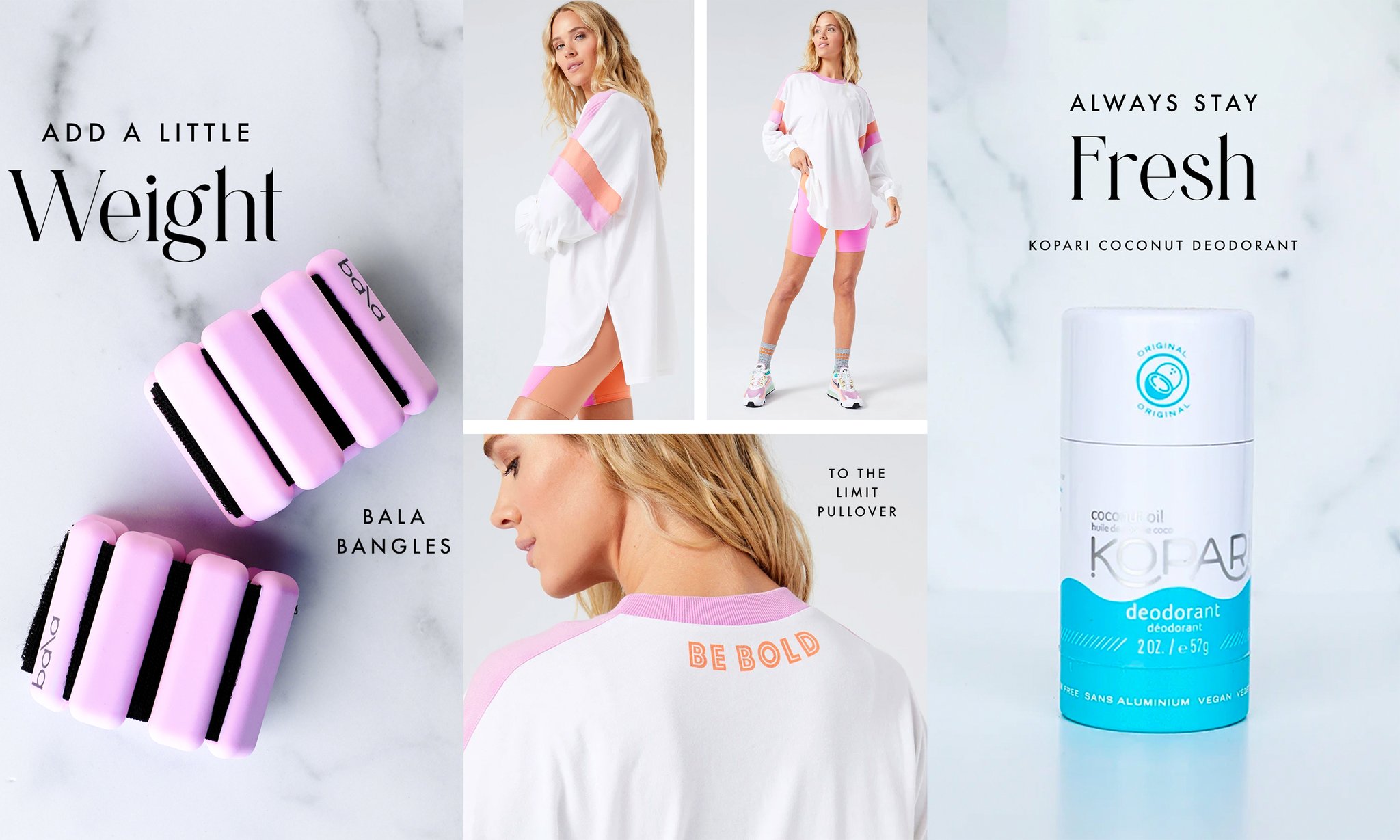 4. Bala Bangles
Our latest obsession: retro-inspired ankle and wrist weights with a modern twist. Level up your workout routine with these 1 lb. beauties from Bala. Toss them in your gym bag on days when you're hitting the treadmill or stair climber. One pound may not sound like a lot, but we promise you'll feel the extra burn.
Your post-gym errands just got a lot more stylish. Throw the To The Limit pullover on over your activewear for an effortless, sporty look. We love the oversized fit and bright, color block stripes. Pro tip: tie it in a front knot to accentuate your waistline.
Maybe this one is self-explanatory, but we'll say it: you need deodorant in your gym bag. We know how hard it is to find a natural deodorant that actually works, but we did the trial and error for you and the Kopari Coconut Deodorant came out on top. The 100% plant-based formula goes on clear and really does pass the sweat test!
+ Get the inside scoop on what inspired LSPACE Active here
+ Ready to shop the collection IRL? See our LSPACE Active retailers here