Blog
The best swimsuit for you is written in the stars! From the red-hot fire signs to our tranquil water babes, we've got a little something for everyone's zodiac sign. Ready to find your swim destiny? Read on for the best swimsuit for your horoscope…
The first sign of the zodiac, Aries just loves to be number one! Signified by the ram, these bold babes are ambitious and love to take on a challenge. Just don't push people away – your drive and competitive nature can sometimes be misconstrued. So our best swimsuit for you is the spicy Cha Cha one piece swimsuit in fiery Lipstick Red. Who says you can't wear a swimsuit off the beach? Not you, Aries – always thinking outside the box, you'd hit the sand and then pair this with jeans and heels for a smokin' hot look on a night out.
Intuitive, dependable, and loyal, the Taurus gal is a great friend to others. Being a bull, you can also be a little stubborn at times – but it's only because you know what you do and don't like! You love to go out and have fun, but you're just as content having a Netflix binge on your cozy couch. Since you don't settle for less than you deserve, your perfect bikini is the Lala bikini top and Vacay bikini bottom. Comfort, quality, and timelessness are key to you, and this set checks everything on your list.
You're a social butterfly who makes friends easily and doesn't sit still for too long! Symbolized by the celestial twins, this air sign was basically so booked and busy she split herself into two people. But we're not calling you two-faced (you're sick of hearing that about your sign, Gemini). In fact, you're incredibly genuine – you just like to live in the moment. And since you tend to switch things up so much, your best swimsuit is the reversible One Wave bikini top and Breakers bikini bottom. Two in one, just like you.
Sweet, loving Cancer – your empathy is unmatched and you're a natural caretaker. No wonder everyone gravitates toward you! You're a sensitive water sign that's always in touch with your emotions. And that can get exhausting – making you, well, a little crabby sometimes too. But don't recede into your shell! Step out with all those friends of yours in the Stripe Tie Dye Lizzie bikini top and Sandy bikini bottom. With buttery soft fabric in colors reminiscent of a blush-toned beach sunset, this is so you.
Ruled by the sun, you Leo babes always know how to shine. Charismatic, creative, and lovable, you're a natural born leader who doesn't mind showing off. Like a true lion, you're the queen of the jungle – er, boardroom. Just don't let your need to feel noticed and validated come across as egotistical. Trust us, the spotlight will be on you in the Everyday Pursuits x L*SPACE Lockhart one piece! With a classic silhouette and head-turning print, this one was practically made for you, kitty cat.
Virgo gal, you're known for your intelligence, resourcefulness, and dependability! Just don't let your perfectionist tendencies get the best of you – that attention to detail sometimes causes you to overextend yourself for the sake of others' wellbeing. It's a great trait to want to help others, but remember to take care of yourself, too. Since you have a discerning eye, not just any swimsuit will do. You are practical, so you know it's wise to invest in timeless pieces that will last for years like the Parker bikini top and Cabana bikini bottom. With a flattering fit, reversibility, and classic silhouette, this suit just makes sense (and you of all signs can appreciate that).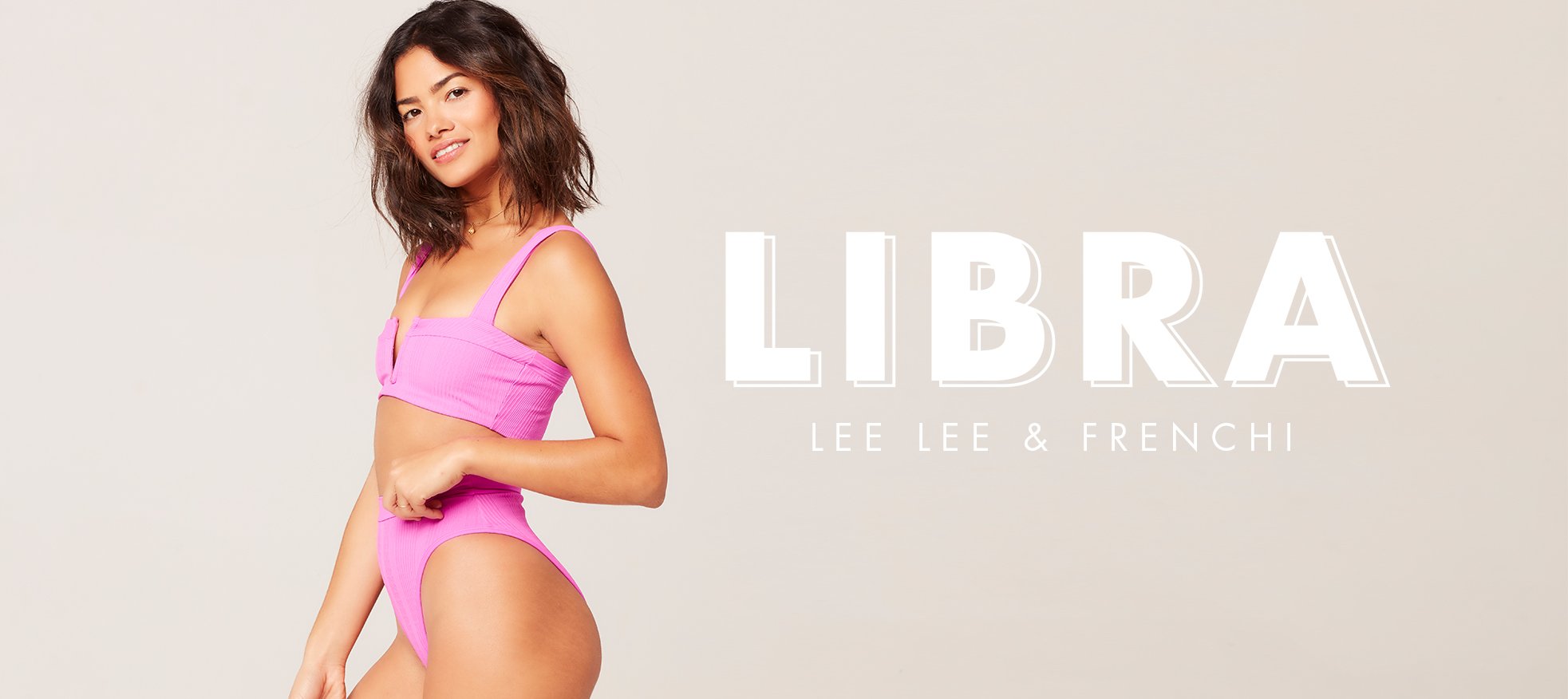 Represented by the scales, the Libra zodiac sign lives for balance and harmony. You're a social butterfly and the ultimate "people person." You know how to turn on the charm and fit into friend groups and social gatherings easily. Just remember to have your own voice, too – the need to be well-liked and avoid conflict can sometimes outweigh your own desires! You belong in a fun and flirty pink swimsuit that'll have you standing out from the crowd. The Pointelle Rib Lee Lee bikini top and Frenchi high waist bikini bottom have a silhouette that looks amazing on everyone, so it's a true people pleaser – hey, kinda like you.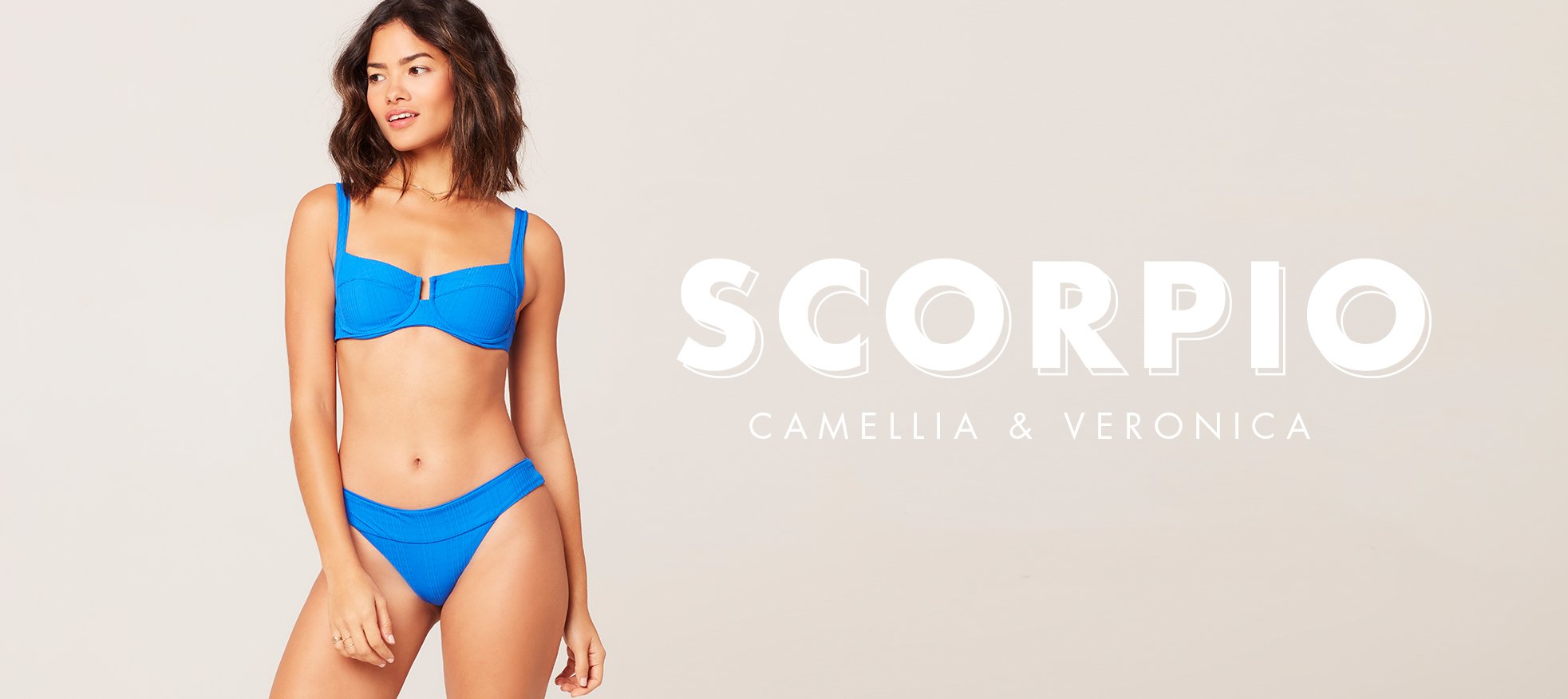 Intuitive, ambitious, and determined, you know exactly what you want and you're willing to work hard to get it. Because of your passionate nature, you're often mistaken for a fire sign, yet you're actually a water babe! You love to analyze people and look for a deeper meaning in everything, but don't let your constant search for answers become overwhelming. Since you like stability, a supportive swimsuit like the Pointelle Rib Camellia underwire bikini top and Veronica low rise bikini bottom will go the distance – and this deep blue hue is so you, Scorpio.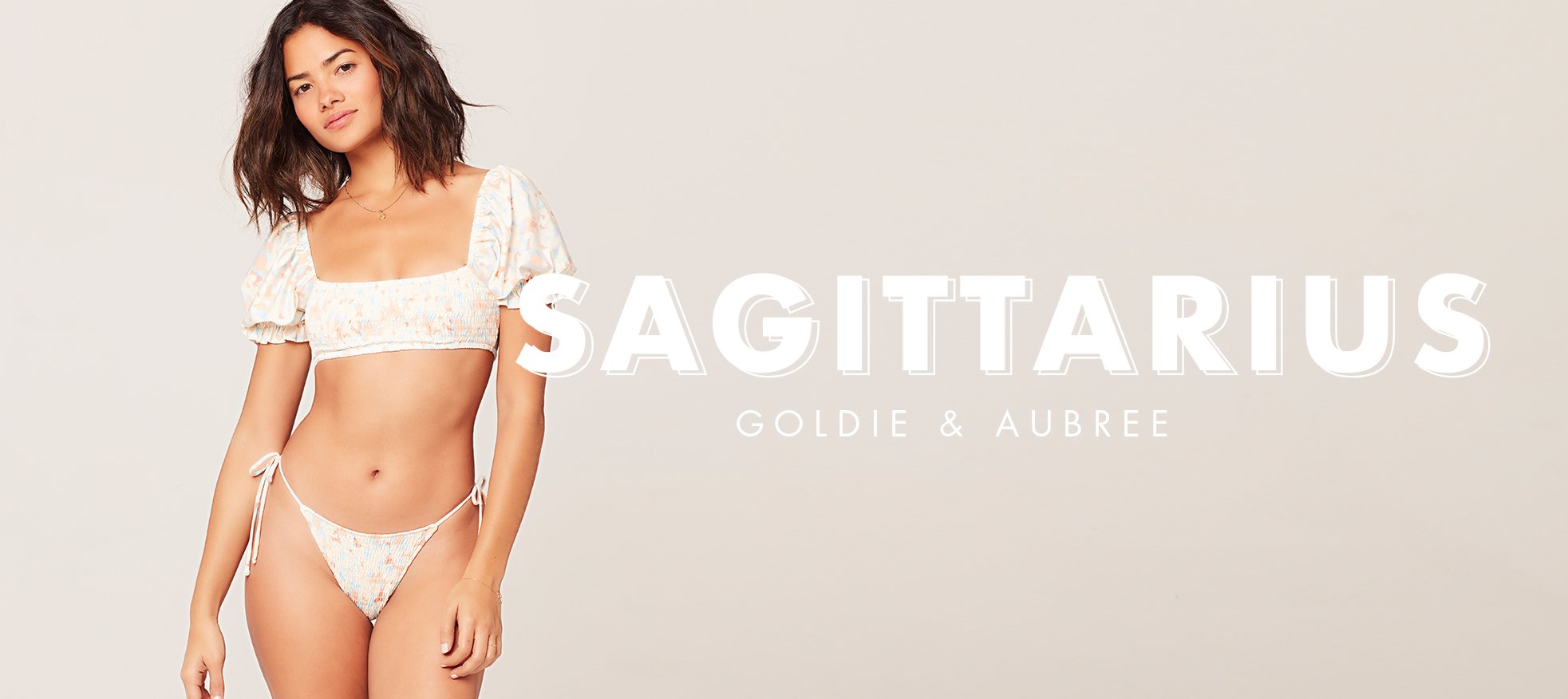 Symbolized by the archer, you're always launching yourself into a new journey or goal. You're intelligent, witty, and confident – no wonder people crave your vibes! Just don't let your willingness to share your knowledge and opinions with others veer you into know-it-all territory. Since you march to the beat of your own drum, a basic bikini just won't do it for you on your adventures. The ruched details, puffed sleeves, and flirty side ties of the Wild Oleander print Goldie smocked bikini top and Aubree string bikini bottom mean this swimsuit will have you standing out from the crowd (making your extroverted heart very happy).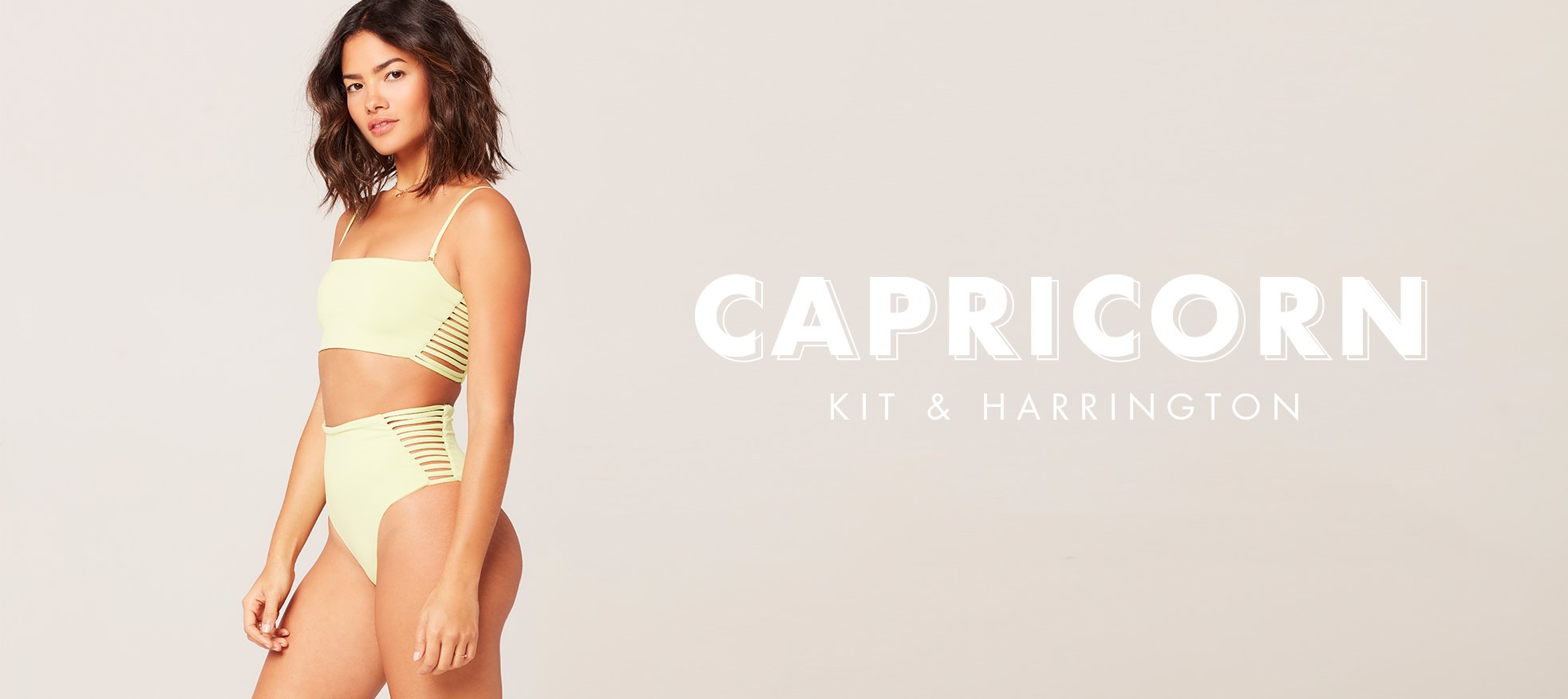 Badass Capricorn, your hardworking nature and dedication always get you to the top! The most organized sign in the zodiac, you excel at achieving your personal and professional goals like no other. Fiercely independent, you sometimes have a wall up that others have to break through to see the real you. Don't let your fear of "getting too emotional" hold you back, Capricorn – once you let people in, you foster amazing relationships with others. The swimsuit for you has to be high quality, not too trendy, but with a little edge. The strappy Kit bikini top and Harrington high waist bikini bottom in Mojito checks all the boxes on your (immaculate) list.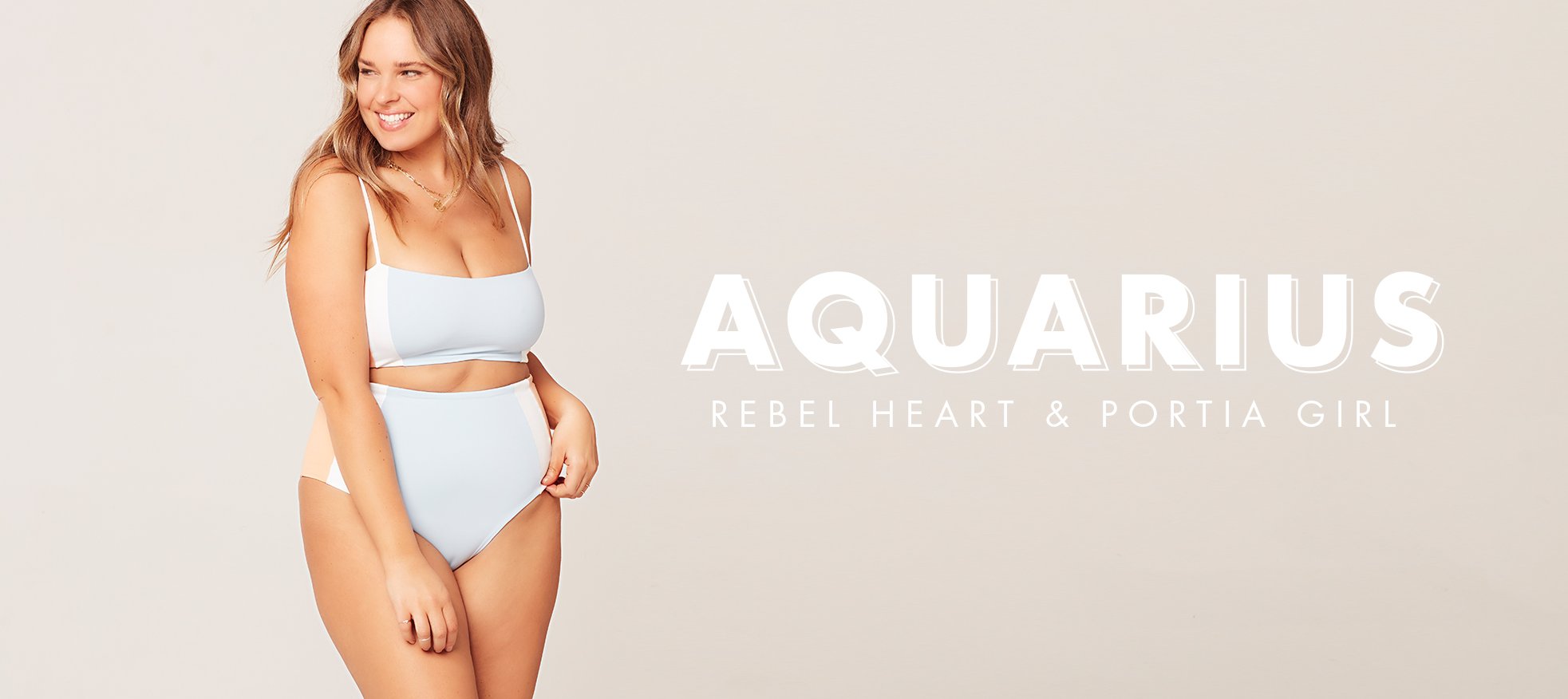 Aquarius, you're one unique and independent babe! A creative thinker and natural humanitarian, you've got big ideas and an even bigger heart. You like to be surrounded by others, and you definitely don't shy away from a debate – probably because you have a bit of a rebellious streak (just try not to alienate others this way). It's only fitting, then, that your suit is the Rebel Heart color block bikini top and Portia Girl high waist bikini bottom. And though you have "aqua" in your name, you're actually an air sign – so you'll look gorg in this soft shade of a sky blue.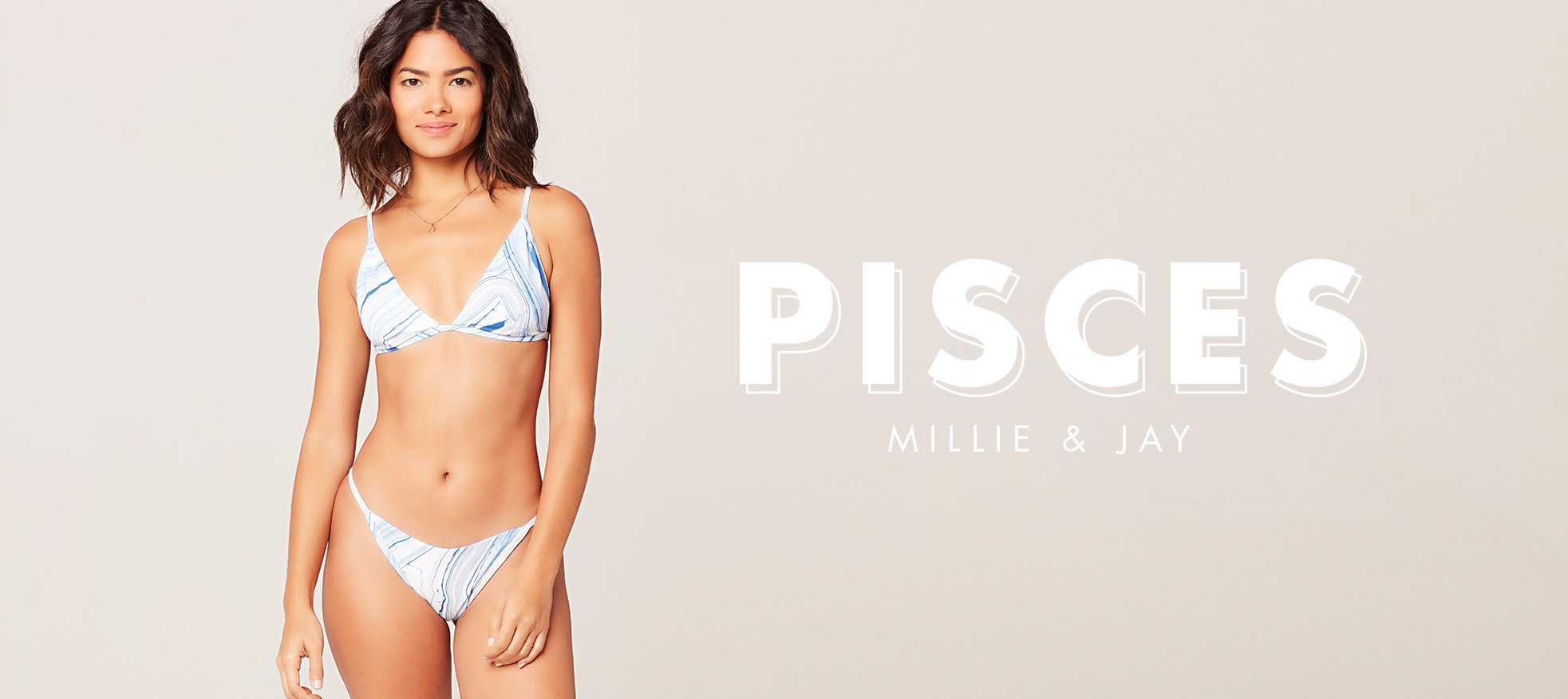 Compassionate, friendly, and intuitive you're – wait, are you still there, Pisces? You're kind of a hopeless daydreamer who lives in her own little world. While it's nice to be so in touch with your imagination, try to come up for air, too! You're a creative type who loves being in the water – so it's only fitting that your best swimsuit matches that energy with a dreamy, mixed-paint look. The marble print Millie triangle bikini top and Jay bikini bottom in ocean-inspired blues are perfect for a fish like you.

Need a little more inspo on your hunt for the perfect swimsuit? Check out our Style Guide here!
Already found yours? Great, here's how to take care of it.