Blog
What is metallic swimwear?
Metallic Swimwear is a fun, sexy look that really shines on the beach, or by the pull. The material gives a shiny, metallic look that has attracted lots of attention. It was considered a hot festival choice a couple of years ago, and the look shows no signs of slowing down.
Search for the term online, and you'll see that lots of people are rocking this unique look. Check out some of the great metallic options available for your next trip to the pool, or that cruise you've been planning. There are lots of different ones available here.
Mix and Match Metallic Swimwear
There is something fun and creative about mixing and matching pieces to find your favorite look. That's why you might want to check out the Sauvage collection. They have several pieces that can be mixed for a look all your own. Let's start with the Iridescent Strappy Triangle.
This top is available is small to D Cup and allows you to tie the top in front, or in back. It also comes with a silver mesh insert and a silver hologram ring in the middle. For a slightly more sporty look without the shine, check out the Iridescent Shine Sport Mesh Top. It's made from Italian fabric and clasps in the back.
Either one of these can be paired easily with two other Sauvage creations: The iridescent Scoop bottom, which gives a more daring look, or the Iridescent Mesh Low Rise Bottom. That one, like the latter top, has a mesh insert around the waist. Both of them are available in a size range of XS to Large, accommodating a wide range of customers.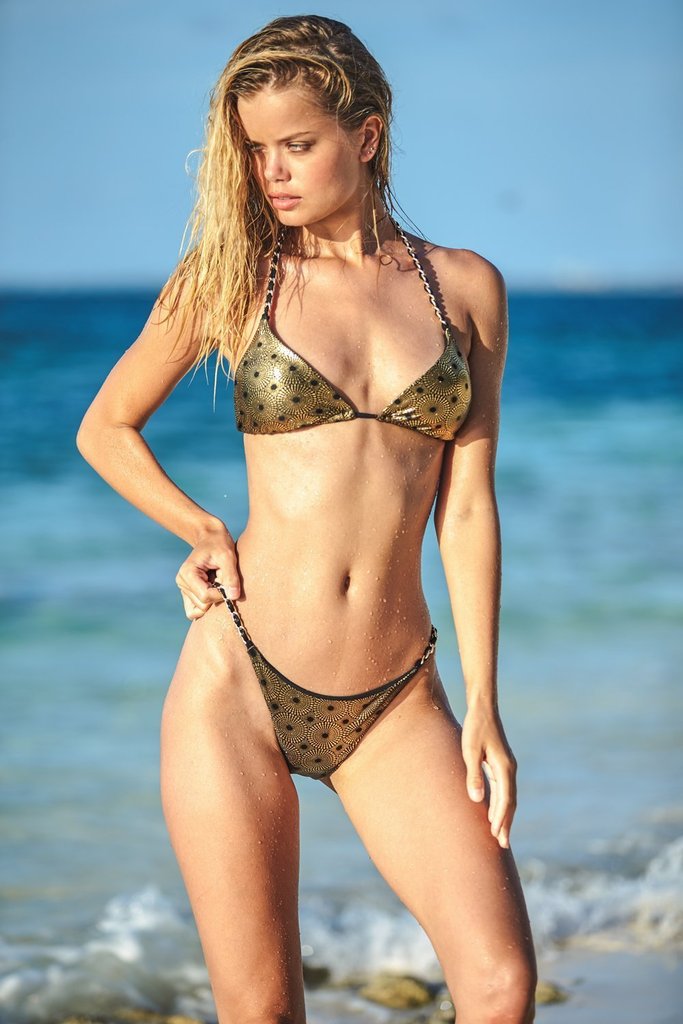 Glam Metallic Swimwear
If you're feeling bold and love darker colors and textures, check out the Sauvage Glam Metallic Bikini Set. It's made right here in the USA out of Italian Lycra and Nylon.
This set features built-in padding, as well as several over features that help one individualize their look. You can choose either full coverage, or a Brazilian cut, and there are removable straps. Sizes range from XS to D-Cup for the top, and small to large for the bottom.
Want to really shine? Then we have a choice for you. The Savauge Metallic Mandala Bikini features a unique and intricate design in bold gold and black coloring. The straps are black with gold accents, and the set, like most Sauvage selections, comes in a variety of sizes.