Blog
Swimsuit Modeling Tips
Looking to be a stand out of the season and get a little online influence? There are many things you can do to get the best shots possible for Instagram, or look your best while walking down the beach. Whether you favor a more adventurous style, some something simple and classy, there is something here for you. Check out some of these choices and see how we can help you rock them right.
Before you make that swimwear choice, you should make sure you're choosing something that you personally like, and you need to make sure you're comfortable in it. If you feel good and can move freely without being self-conscious, you are on your way.
Also, start by taking a look at our current clothing/suits and see what colors look the best with your skin tone and hair color. The wrong color for your skin tone can mess up your look and leave you feeling less than confident.
Swimsuit Photoshoot Tips
Finally, be sure to bring something new to the table. Chances are, you might be finding a suit someone else already is wearing to that beach day, party, etc. So accessorizing is key to making a look all your own, and expressing your personality. Isn't that part of what makes fashion fun?
Also, if you're looking for some great Instagram shots, make sure you have a background that's free of unnecessary distractions and photo-bombing. You'll also want to try shooting at different times of day in different light so you can see what looks the best.
How to Become a Bikini Model
Consider looking up some Instagram tips online to get even more help on setting up the perfect shot. Some sites might even have filters you can download that will add more of a unique touch.
Once you've found the suit that makes you feel good and look good, whether it be a one piece, bikini, or a more sporty style, you're ready to start accessorizing and make the look your very own. Let's take a quick look at some of the coverups, jewelry, and other items available here that can help you express your personal style.
Beach Cover Ups
These are not only something to add a little style, they can help give you extra coverage out there in the hot sun. Try an open look, like the Marine Reptile Beloved Cover Up by Malai Swimwear, or cover a bit more with their Marine Reptile Brisky Kaftan.
If you don't want to go with a more traditional beach cover-up, try the lush lace pants by Sauvage, the Cleo Stripe Jumpsuit by Agua Bendita, or the the Luxury Lace Shorts by Sauvage. There are also skirts, dresses, and caftans that you'll want to check out here as well.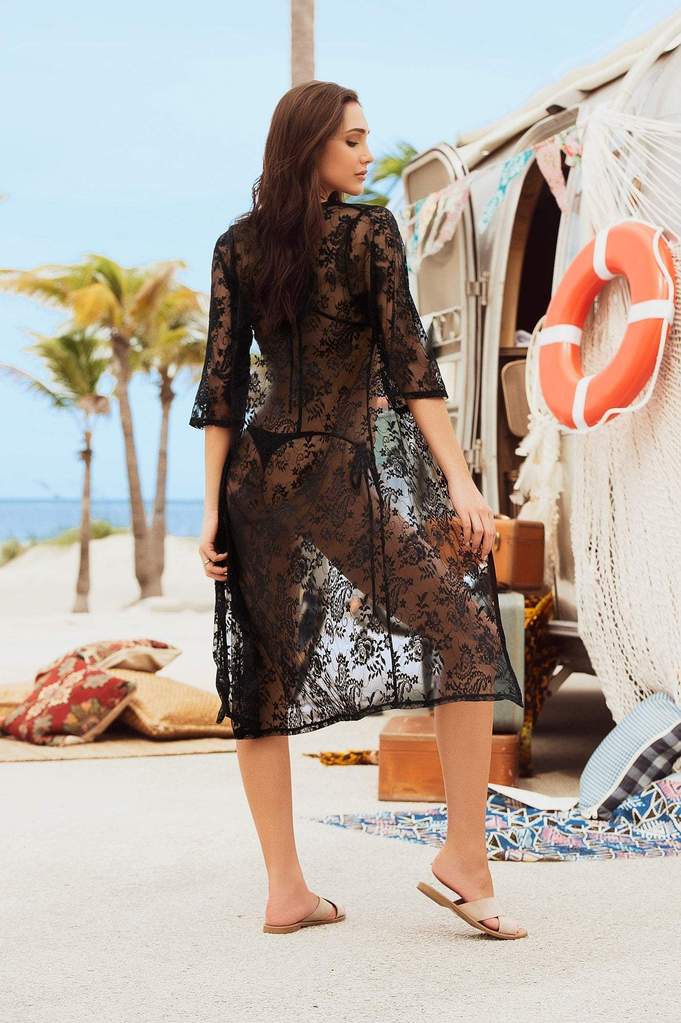 Noting adds a great touch to a look like jewelry, and there is plenty to choose from here, ranging from earrings like the Mia Leaf and Sun Statement earrings by Tess and Tricia, to the Bikini Luxe Grecian Princess Ring, our Triple Body Chain, or the '90s Tattoo Choker Jewelry Tree Piece Set. Bring some good vibes to your look with a Tai Evil Eye Necklace or their Horseshow Earrings. There's no limit to the types of jewelry and styles featured here, so check them out and get creative.