Blog
If you know, you know…and if you're new around here, welcome! We're the ultimate destination for slip-it-on-and-go styles that you'll love to live in. We definitely don't take life too seriously, but fit? That's another story. Our designs focus on those chic-yet-unfussy closet staples you'll cherish for years to come. We use luxe, buttery-soft fabrics to create pieces that are meant to hold up season after season. Whether you're looking for on-trend tie dye or a timeless vintage vibe, we've got a little somethin' for everyone.
So here's the rundown on That Feel Good Fit:
FABRIC
Quality fabrics with a superior hand-feel have always been our thing. We call our signature staple fabrication the "Sensual Solid" because it not only feels great to the touch, it also feels great on you. Most of these styles are self-lined, seamless, and stretchy for a perfect fit.
Recommended Tops:
Kit, Playa, Parker, One Wave
Recommended Bottoms:
Harrington, Cabana, Sandy, Breakers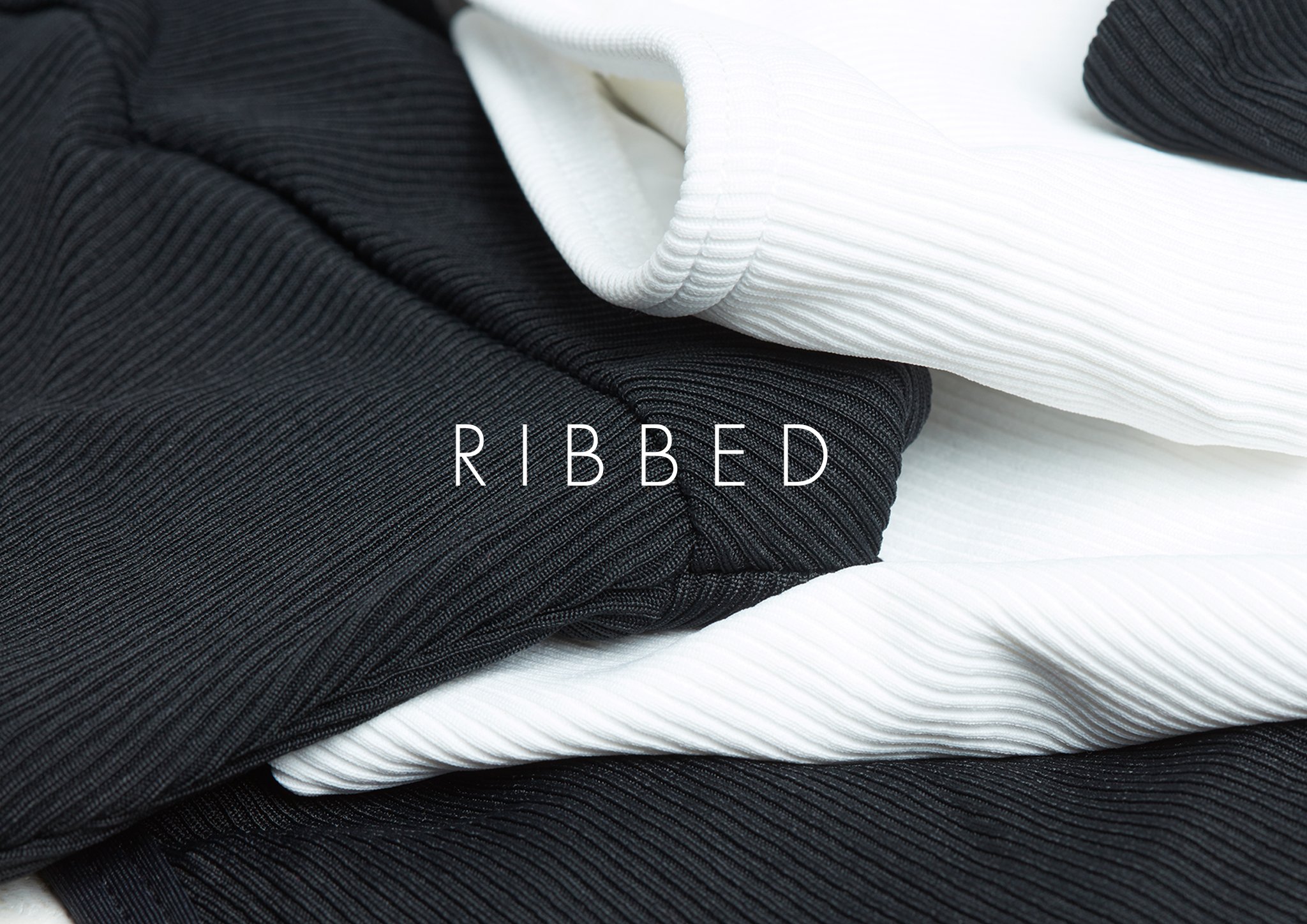 Ribbed clothing and swim has been a huge trend the last fews years, with our talented designers paving the way for its resurgence. These styles are just as soft as our signature pieces, with a contemporary textured twist. Expect Sensual Solid lining and sculptural silhouettes on our Ribbed pieces.
Recommended Tops:
Rebel, Tara, Lee Lee, Lala, Beach Wave, Daisy
Recommended Bottoms:
Frenchi, Veronica, Vacay, Lily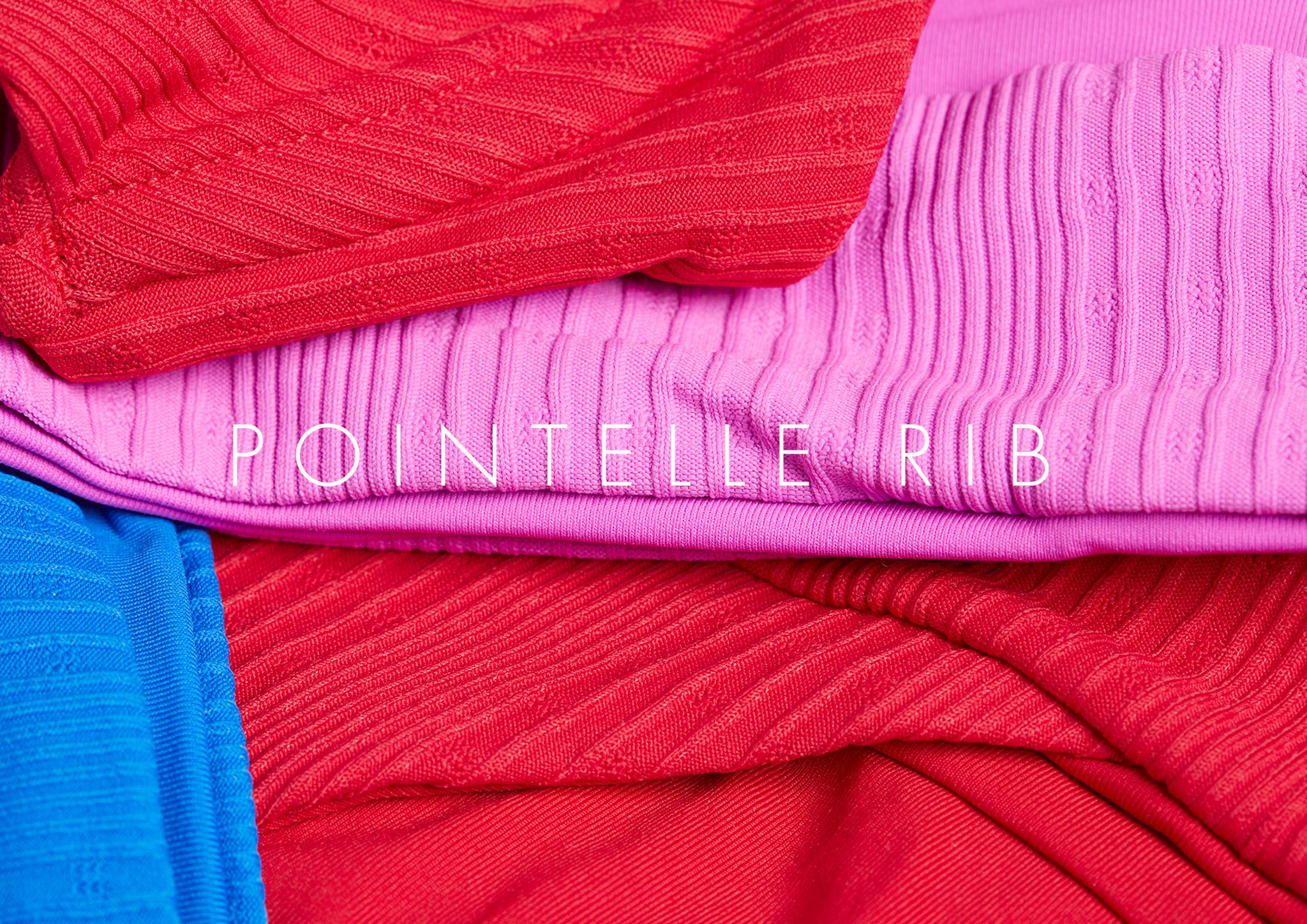 Always innovating, our designers took Ribbed one step further with our new Pointelle Rib. These pieces are delicately detailed and are lined with the same luxe Sensual Solid fabric. This season we did them in an array of bold brights that'll make your tan pop (and heads turn).
Recommended Tops:
Camellia, Lee Lee, Daisy
Recommended Bottoms:
Veronica, Frenchi,
Recommended One Pieces:
Cha Cha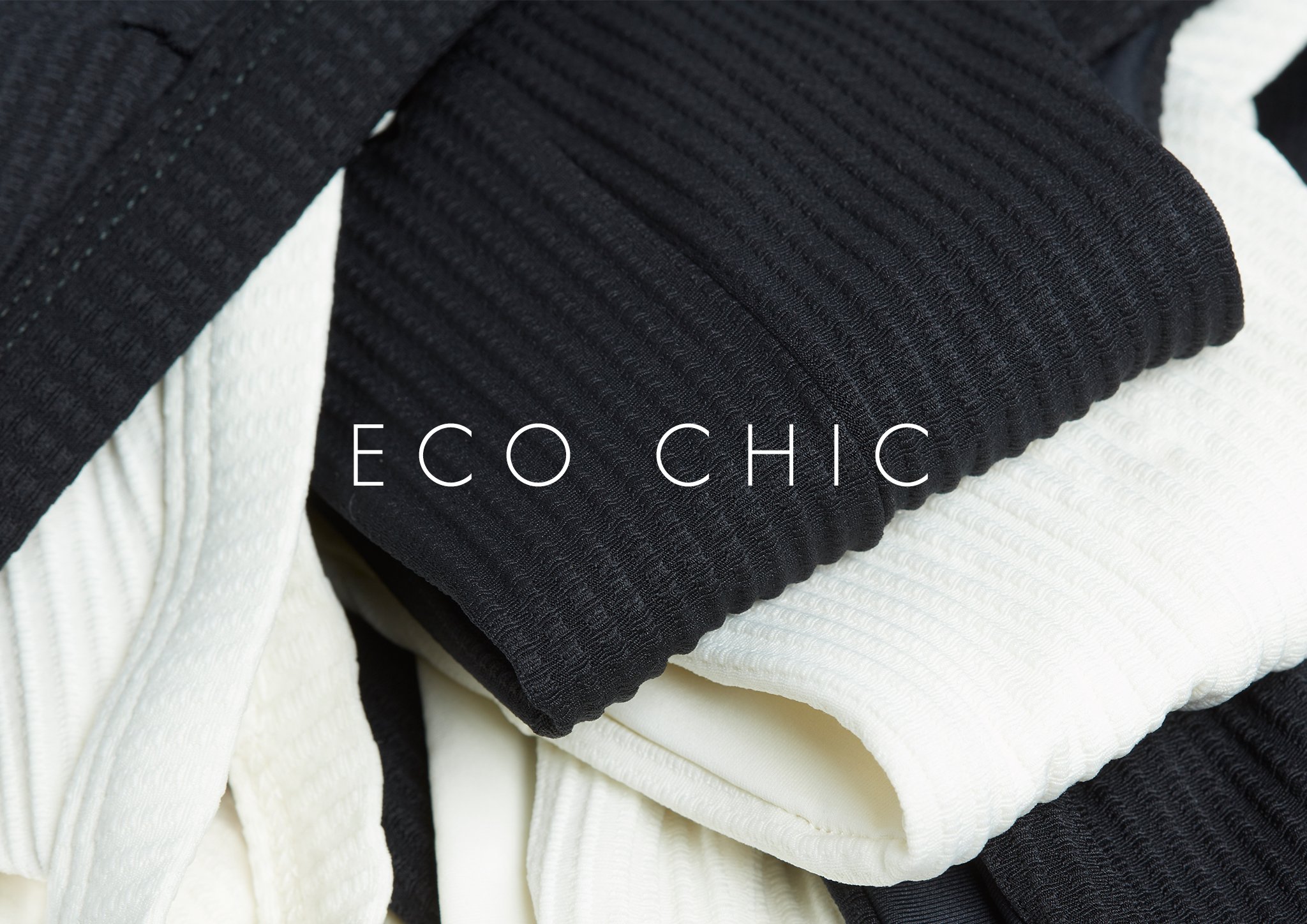 Last season we were thrilled to launch of Eco Chic collection, constructed with 100% recycled Nylon fabrics from Repreve and Econyl. This is the start of a long-term goal to build our sustainable fabrications and leave a smaller carbon footprint as a company. Though these pieces are made from regenerated plastics like water bottles and fishing nets (how amazing is that?!) you'd never know it, because they're just as soft as the rest of our line.
Recommended Tops:
Jess, Nina
Recommended Bottoms:
Desi, Sol
STYLE FEATURES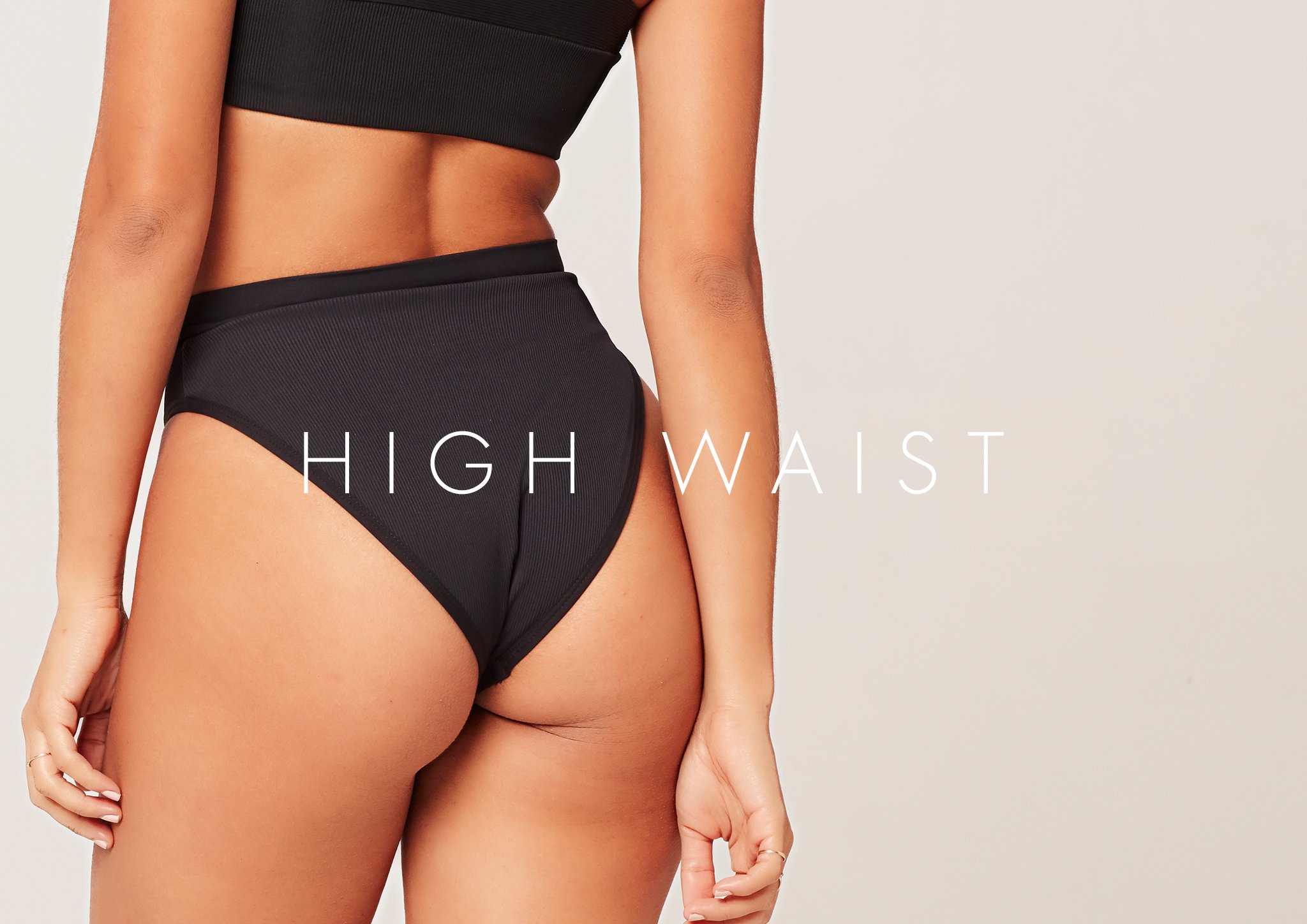 We could say high-waisted styles are back, but were they ever really out? (We don't think so). Classic yet totally on-trend, these bottoms will accentuate your waist with a vintage-inspired silhouette that's oh-so-flattering.
Recommended Bottoms:
Frenchi, Portia, Jackie, Harrington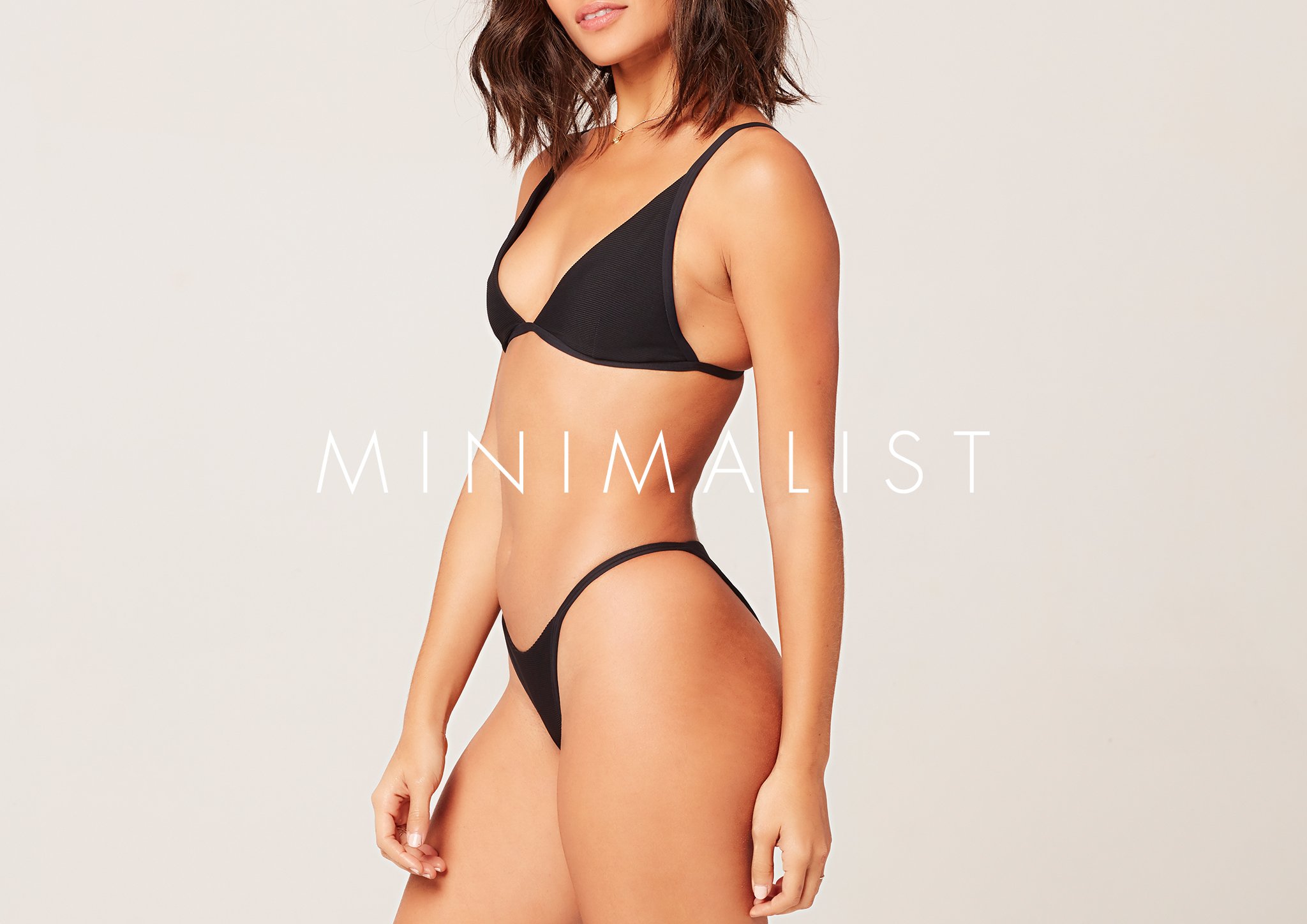 Sleek and sexy, minimalist swimsuits are ready to steal the show on your IG feed. These pieces are low on frills and high on style, with clean lines and contemporary silhouettes. You just can't go wrong – these are bikini drawer staples.
Recommended Tops:
Millie, Rebel, Parker, Lee Lee
Recommended Bottoms:
Cabana, Jay, Veronica, Frenchi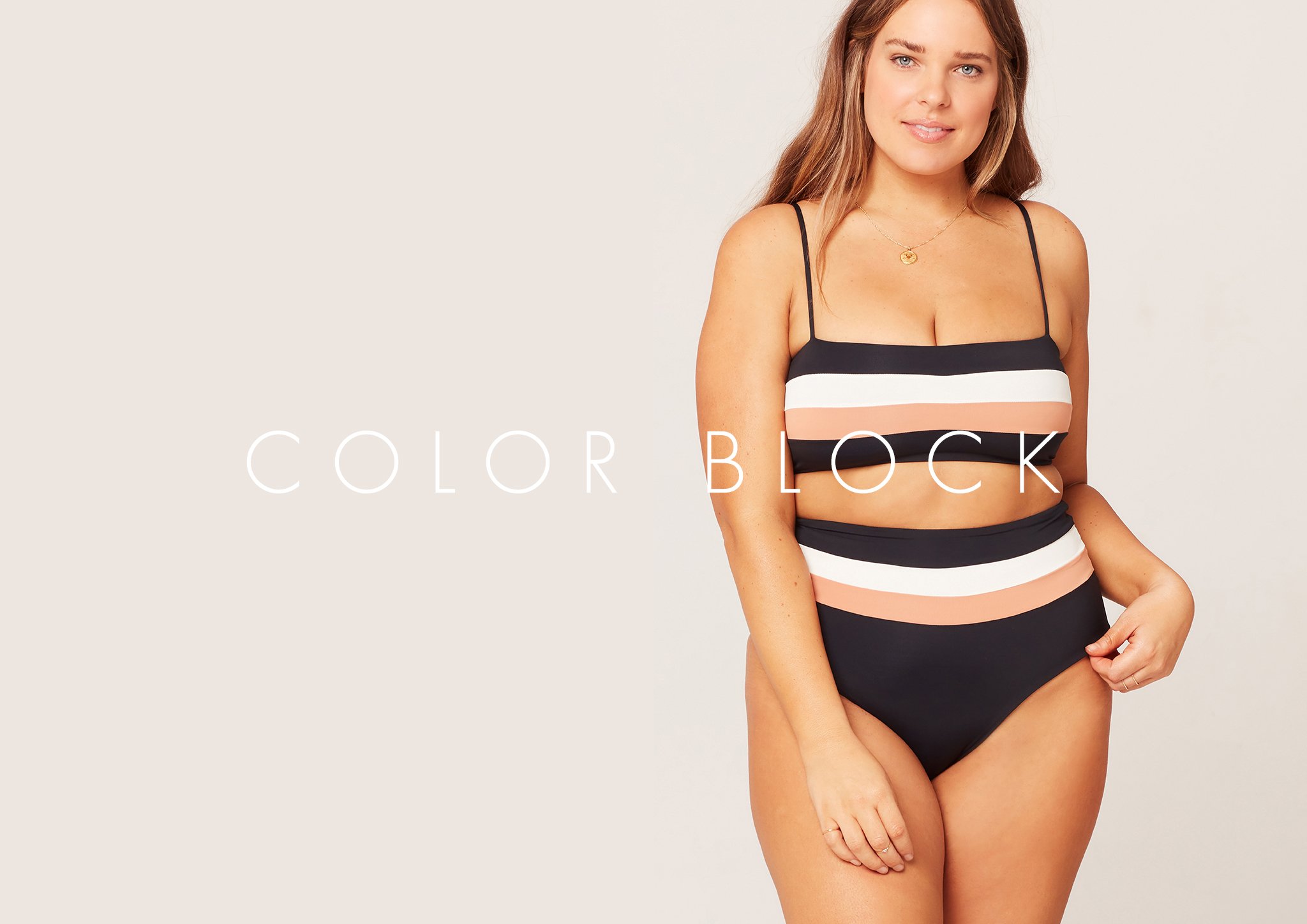 Another trend we've led the way in? Sporty color blocked swim! We're known for our timeless cuts and fun, striped patterns. When properly placed, bold stripes (yes, even horizontal ones!) are incredibly flattering and have a vintage-inspired appeal that's anything but stuffy. You could say these are our ride-or-die styles.
Recommended Tops:
Rebel Stripe, Rebel Heart, Missy, Gigi, Lala
Recommended Bottoms:
Portia Stripe, Portia Girl, Frenchi, Whiplash, Vacay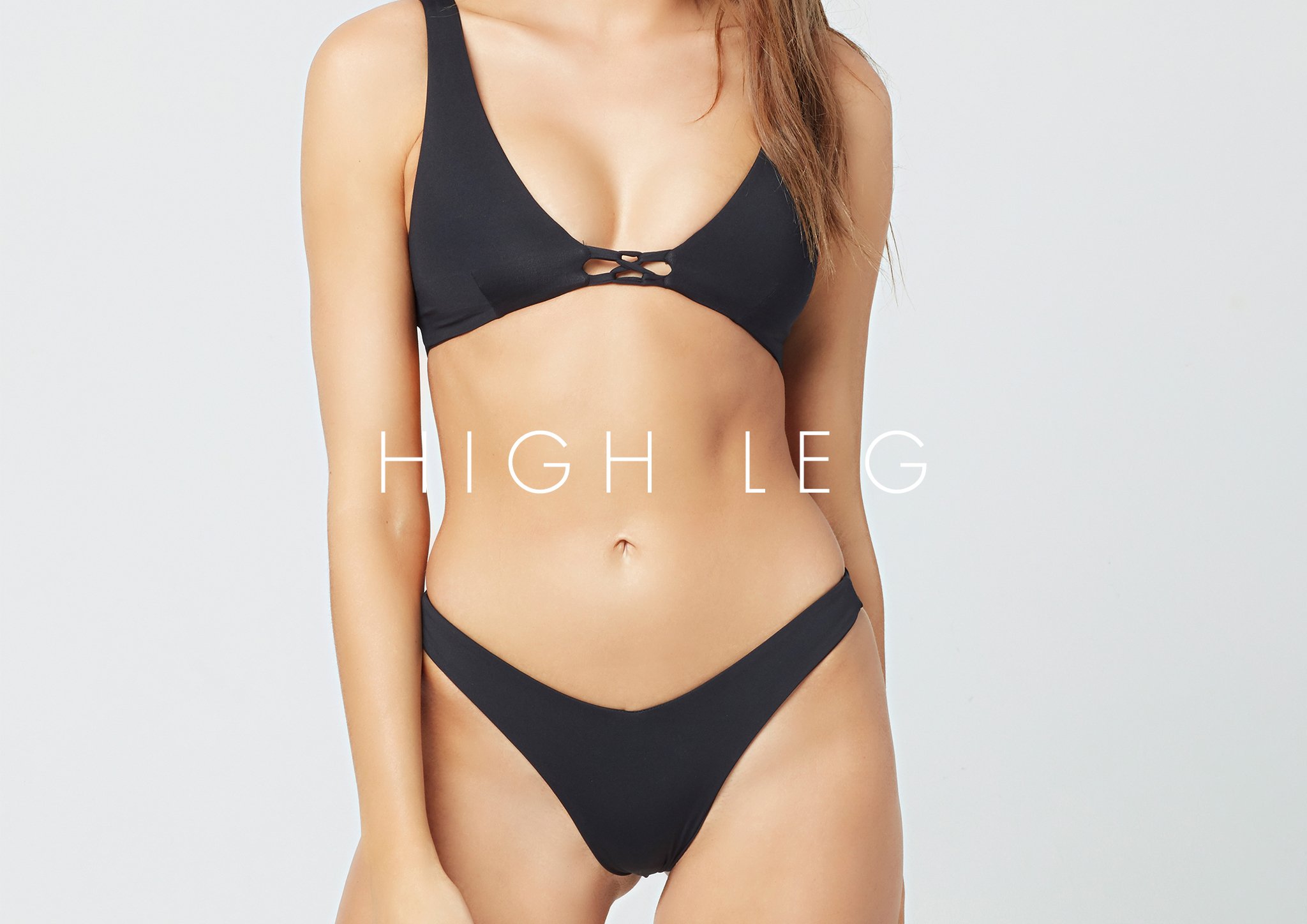 Maybe you're getting flashbacks of old home videos of your mom in the '80s when you see this style, but you know what? Your mom was a total BABE in it, and you will be too! A high-cut bottom is incredibly flattering and will give all body types #legsfordays. We can't get enough.
Recommended Bottoms:
Frenchi, Cabana, Jay, Whiplash
TOP SUPPORT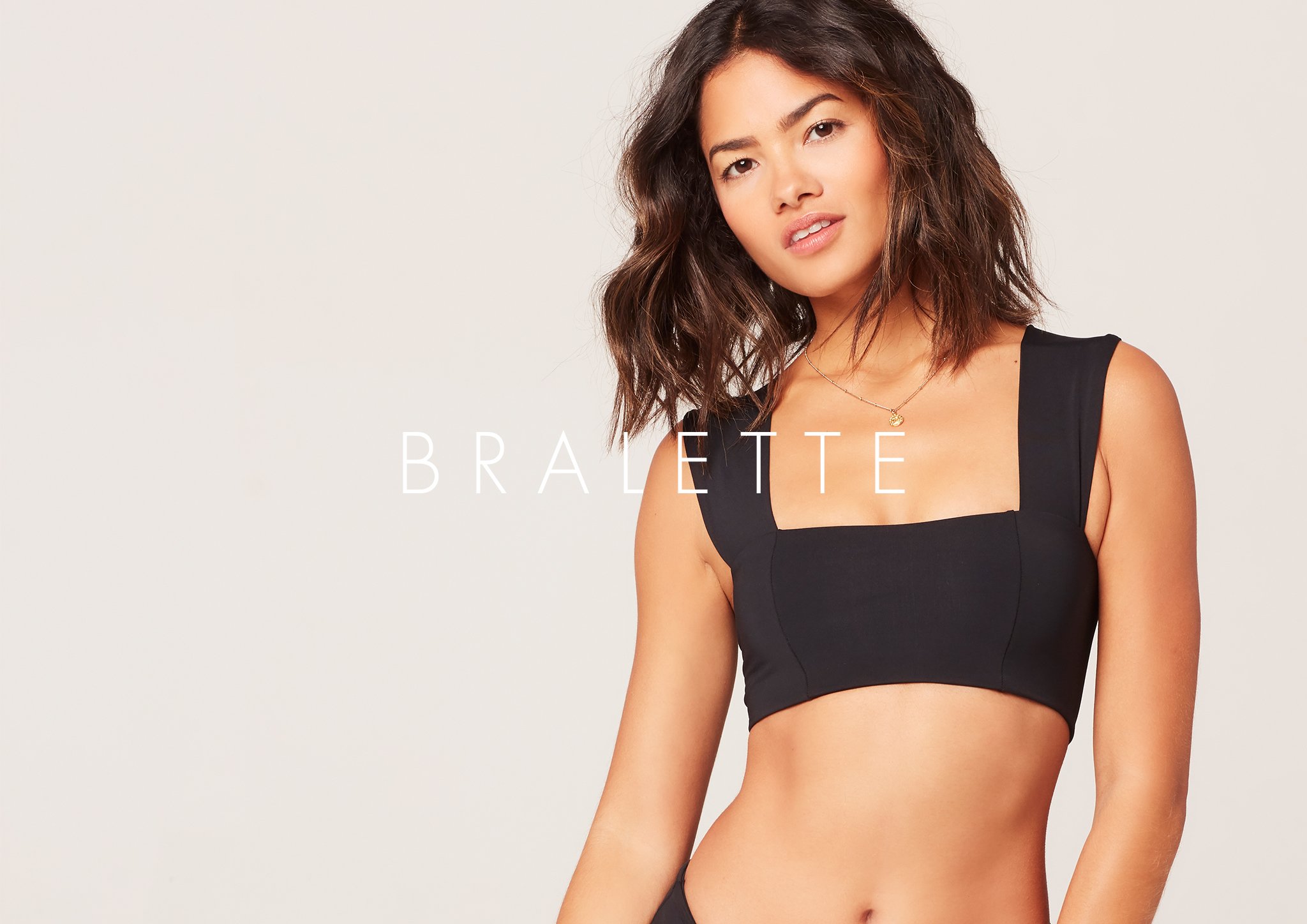 This style is a total no-brainer. These slip-on tops fit like your favorite bralette or sports bra (sans wrestling it on and off, amirite?!). With medium level support, these pieces give you everything you need in one comfortable, second-skin package.
Recommended Tops:
Parker, Rebel, Rebel Stripe, Rebel Heart, Playa, Lizzie, Beach Wave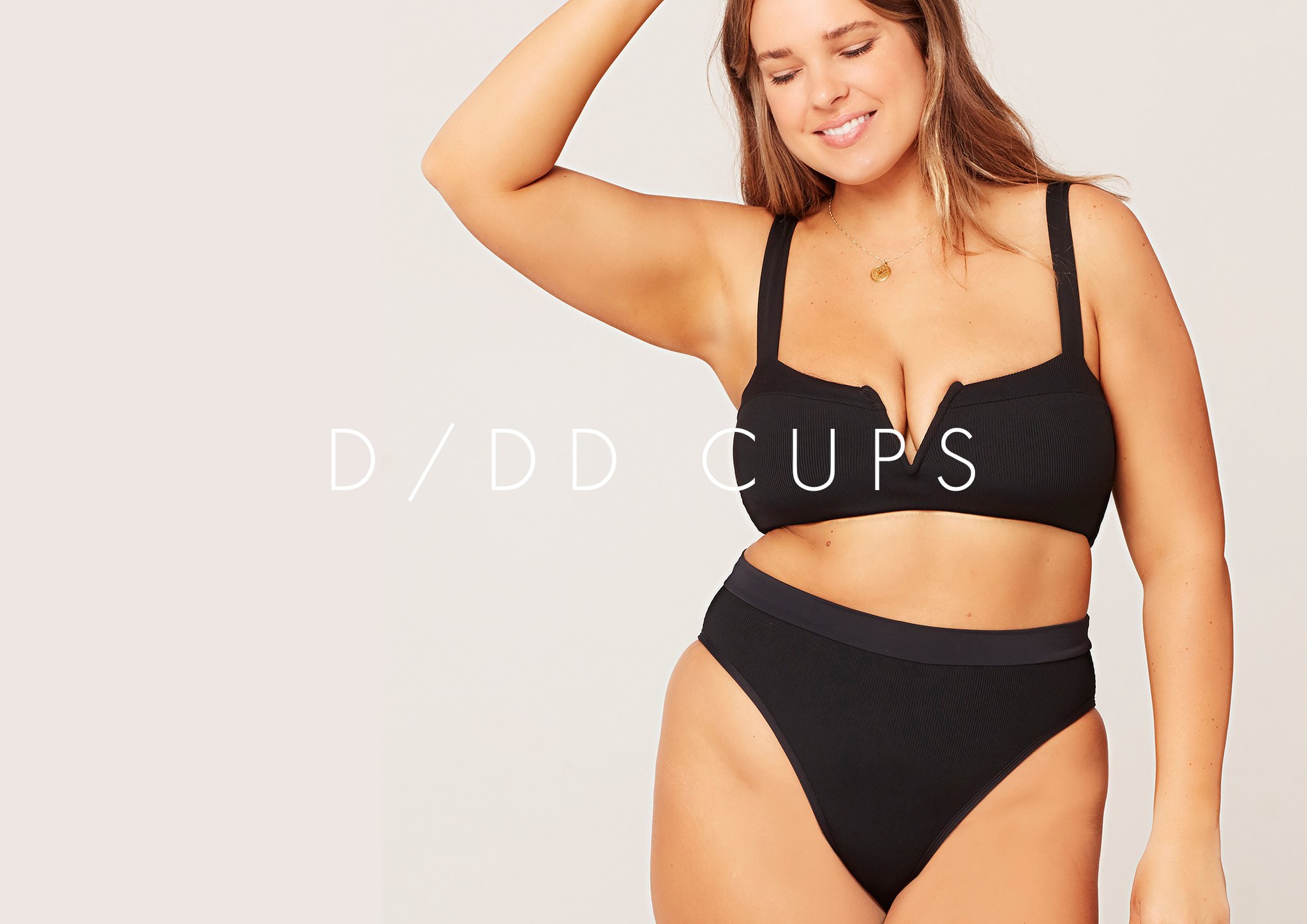 You asked, we listened. Tons of our tops now come in D and DD cups for our gals looking for more coverage and support! Got a smaller band? Flashback and Camellia are perfect for you so you can adjust through the band for a custom fit.
Recommended Tops:
Camellia, Jess, Nina, Tara, Lee Lee, Flashback, Parker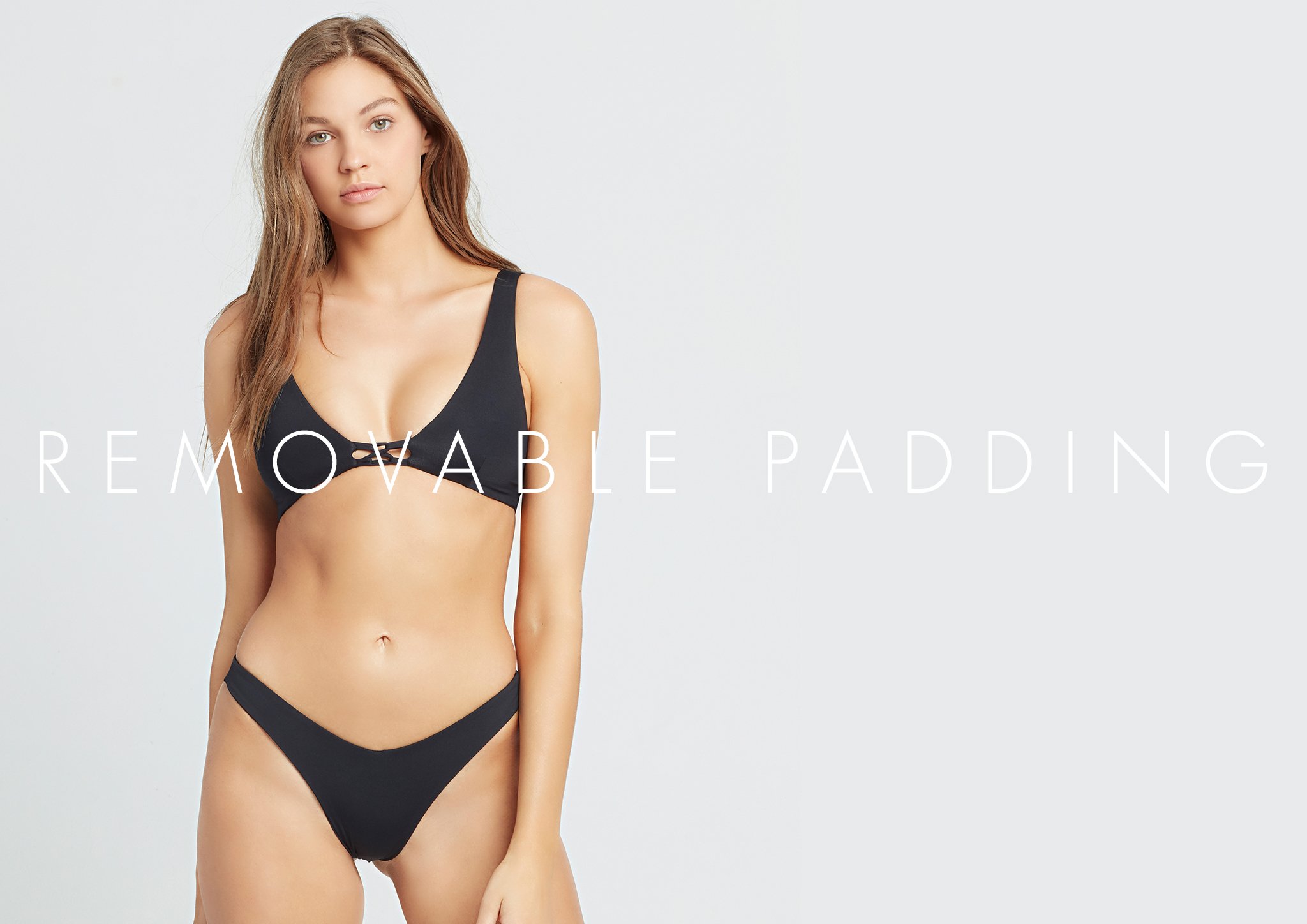 Have your cake and eat it, too. These styles have removable padding, so you can choose your level of support and coverage! If you prefer the look and feel of padding, these pieces are perfect for you. Featuring soft cups for a natural look – nobody will know but you.
Recommended Tops:
Playa, Lala, Lizzie, Daisy, Millie, Shay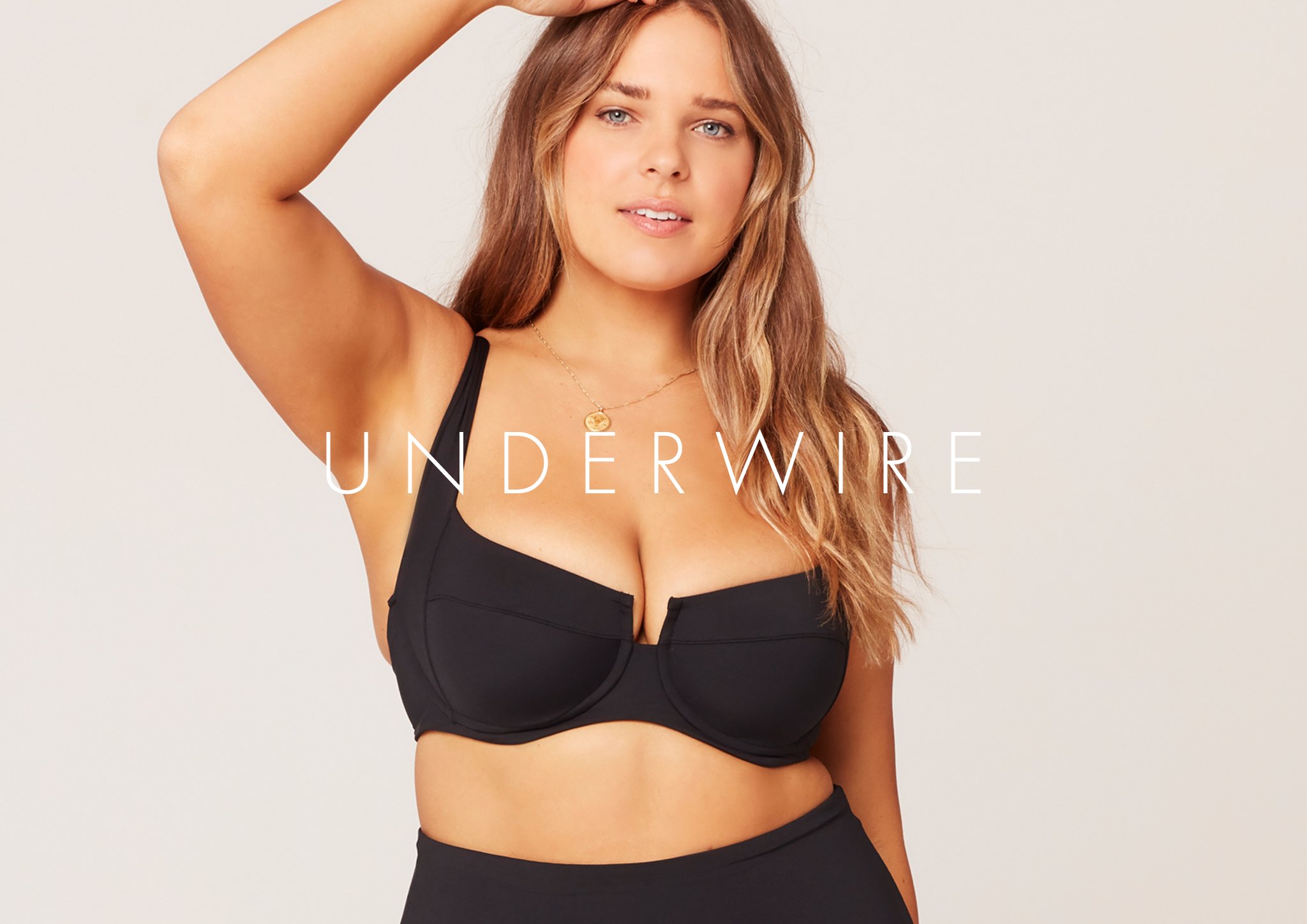 Nothing beats an underwire for support, and we have several styles that fit the bill. These tops are so soft, you won't even feel it's there.
Recommended Tops:
Camellia, Missy
Recommended One Piece:
Nicolette
BOTTOM COVERAGE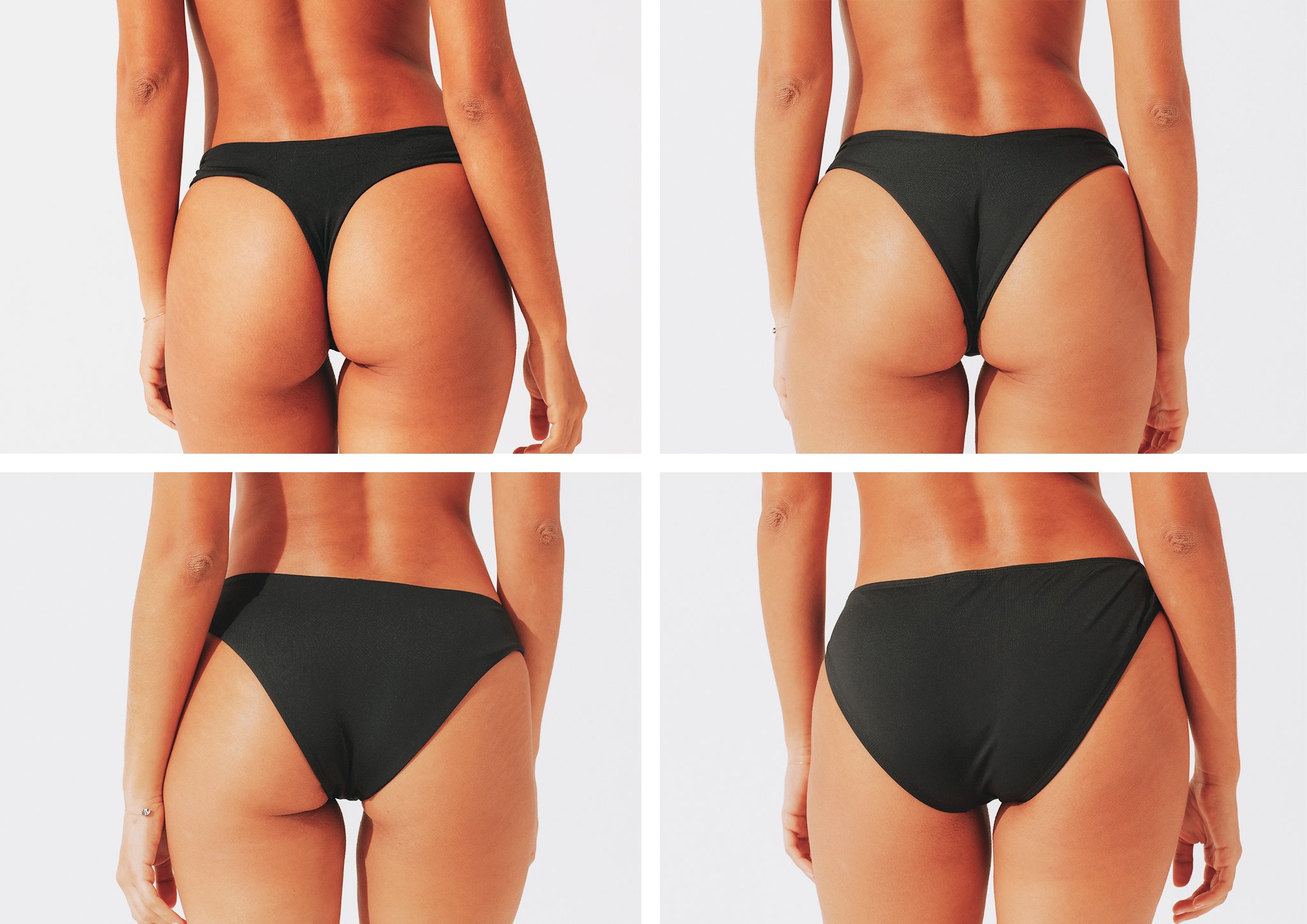 ITSY
The teeniest of bikinis and our skimpiest coverage offered. If you love Brazilian cuts, this one's for you. Shop Itsy here.
BITSY
A little more coverage – you're still pretty cheeky but this is definitely not a thong. Shop Bitsy here.
CLASSIC
Our signature coverage that's not too much, and not too little – this one's just right. Shop Classic here.
FULL
Offers the most rear coverage of all our styles, and has a slightly higher rise in the front than our Classic. Shop Full here.
Still got questions? Email our team here, or shoot us a DM on Instagram. We're happy to help you find the high quality and stylish swimsuit you've been dreaming of!
xo,
Your L*SPACE Family