Blog
Every once in a while we stumble across a girl on Instagram who just steals our hearts. One such person is Vanessa Ariel Torres, a beautiful Puerto Rican & Indo-Trinidadian model who we've watched build her social media following from the ground up over the years. With her cheerful spirit, and effortlessly gorgeous photos she's been popping up all over our feed lately, so we felt it was only right to share the goodness with our Bikini Luxe babes.
One of our favorite things about her is that she doesn't Facetune her STRETCHMARKS. Yup, you read that correctly. She's got a bangin' body and has tiger stripes JUST LIKE THE REST OF US. It's so refreshing to see other girls commenting on her posts, thanking her for being real and honest and not photo-shopping her body. We can't get enough! So, it's time for you to meet Vanessa, one of our favorite babes on the 'gram.
How old are you and where do you live?
I'm 20 years old I live in South Florida.
Tell us a little about yourself?
Well, I'm Vanessa Ariel Torres – named after my mother's favorite girl's name and the Little Mermaid! I was born and raised in Southeast Florida where I lived with my gorgeous family consisting of my mother, father, brother, and little sister.
I enjoy really simple things – my favorite black coffee with agave nectar in the morning or a yummy smoothie bowl, sitting and watching tv all day with my cats, going to the beach when it's hottest outside, or even just taking myself out for food and, of course, documenting my life through pictures! Each day is such a gift – there's always some joy and fun to be found.
What are you are most proud of?
I'm most proud of who I am as a person and my achievements. My mom raised me to be a strong, independent, smart and confident woman and she really did succeed. Pretty much everything I love about myself, I owe to her.
I'm so grateful for confidence and self-assurance to come easy to me because I see so many girls struggling with that every single day, but it means the world to me when I can pull other girls out of that and help them gain the confidence that they so deserve to own.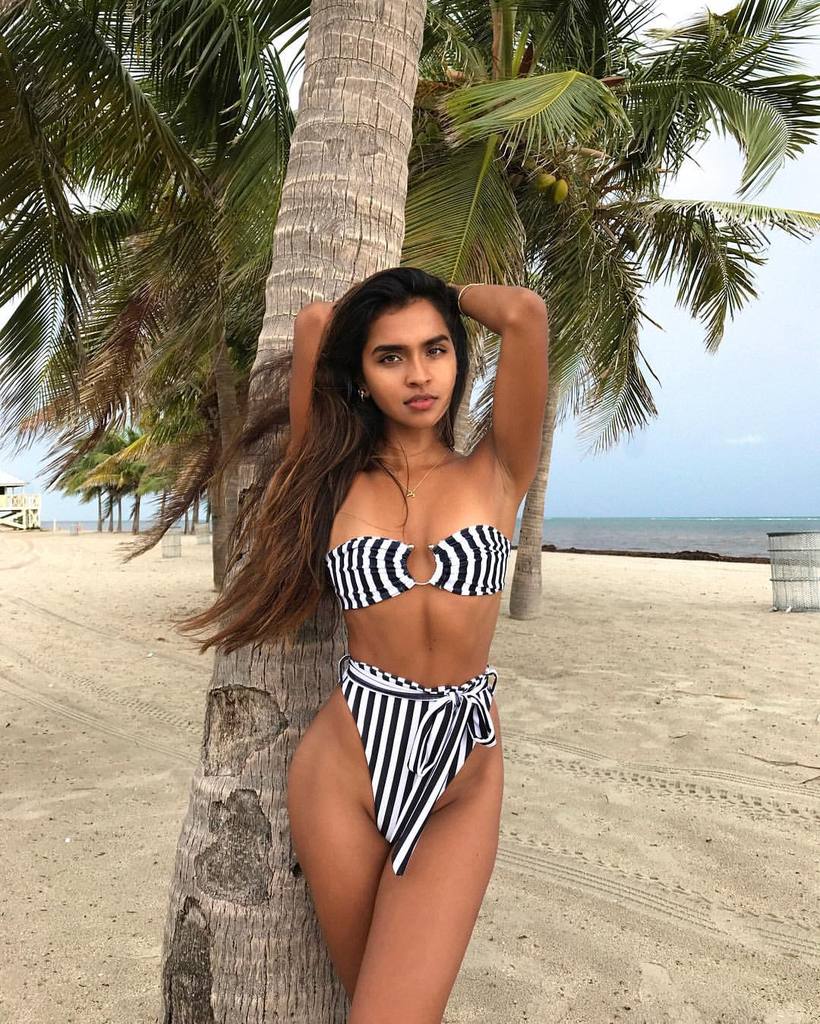 What's the first thing you do in the morning?
First thing I do is stretch, say good morning to my cat, drink water, and then head to the bathroom to start my morning skincare routine.
You're gorgeous, what does your beauty routine look like?
Thank you! I use a lot of natural products and weekly face masks. I make sure to wash my face at least twice a day and always before I get into bed. I NEVER forget to moisturize!
If you had to wear the same outfit for the rest of your life – what would it be?
High-waisted sweatpants and a cropped t-shirt with my Nike's.
We want to know, what's in your beauty bag?
My beauty bag is all skincare products. I start with a salicylic acid cleanser, then rose water toner, hyaluronic or glycolic acid, and either jojoba oil, rosehip oil, coconut oil, or vitamin e oil for moisture. It takes me a pretty long time – my friends and family always make fun of me for it! As for my makeup bag, I always have concealer, mascara, eyeliner, lip gloss, and an eyelash curler.
Who's your favorite musician to jam out to when no one's looking?
I have so many that I love! There's Camila Cabello, Vance Joy, Lovely the Band, Christina Aguilera, Yerba Buena, Rodrigo Amarante, J Balvin, Ludwig van Beethoven. I love so many genres.
If you could travel anywhere in the world – where would it be?
I would island-hop the South Pacific Islands! That part of the world looks so surreal.
What's your favorite thing to do in your down time?
I love to have picnics on the beach – there's such bliss in eating my favorite foods in the warmth of the sun with the ocean as my view. Or of course there's those amazing days where I can stay home and cuddle up on the couch with my kitties watching Netflix with some hot ginger tea.
They say you are what you eat, what are you?
I'm a smoothie bowl topped with almond butter and cacao nibs!!
If your best friends could tell us something embarrassing about you, what would it be?
Probably that I'm actually very dorky, tell corny jokes that I think are legitimately funny and a big nerd who's always sharing "fun facts" and I only know this because I've been told so!
What are your favorite looks from Bikini Luxe?
I absolutely love Soah and Agua Bendita. The lifestyle shots with each bikini are stunning and makes you want every piece LOL.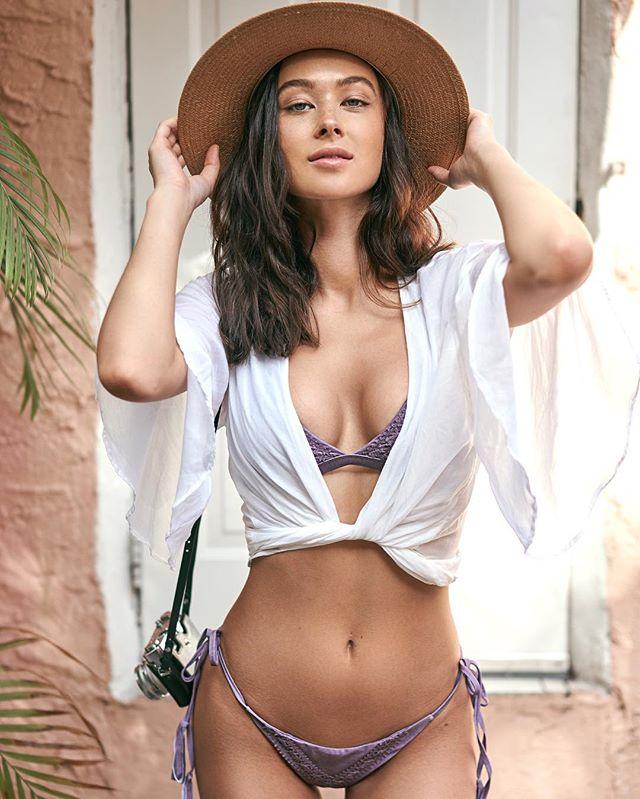 Where do you get your sense of style from?
That's almost a tough question because I have so many different styles based on my mood! I usually tend to go for a comfy sexy-boho style, but then there's the edgy styles, laid back and flowy style, crisp-fashion styles, and sporty styles.
In general, I get my sense of style from what makes me feel awesome and truly speaks to me. Because, you know, clothes totally talk.
What inspired you to start modeling?
Every year since I was little, my mom and I would watch the Victoria's Secret Fashion Show and the Miss Universe pageants. It was so empowering and beautiful to watch – I wanted to be them!
Being a source of inspiration and empowering other people would be a surreal feeling. I always loved taking photos, so around 17 years old when I started using social media a lot more, I took to social media to share it and it started from there!
Is this something you do Full-Time?
I'd definitely consider this as a part-time kind of job because it doesn't take out as much time as a '9-5' and I'm also a college student. Between modeling and building my presence on social media, I've been studying to earn my Bachelor's Degree in Neuroscience and Biology, which I'm super excited about because my major is a field that has always interested me- I want to study the human brain and our behaviors, tendencies, and why we are the way we are!
I earned my Associate's Degree in Biology at 18 years old because I went to college for the last two years of high school – which I am so immensely proud and grateful for (I was not a fan of high school life).
Tell us about your dream collab, who is it and why?
Victoria's Secret – the women they've worked with are goddesses. It'd be unreal!!
Girls worldwide want to do what you're doing, do you have any advice for them?
Be good to yourself, your body, and other people. Everyone loves kind-hearted people and I strongly believe that you attract what you put out. Also, just be yourself! It sounds cliche, but in a world full of millennials trying to look, act, and be like each other, feel free to be the odd one out.
Emphasize the little things that make you different and that you love about yourself whether it be something mental or physical.
What's next for you?
Currently, I'm just making sure to have fun with whatever I do. I plan to travel a lot more in the next year and so on, so I'm super excited for that. I'm done waiting to live my life, traveling is what I've always wanted to do and I don't see the point in prolonging something that makes me feel whole!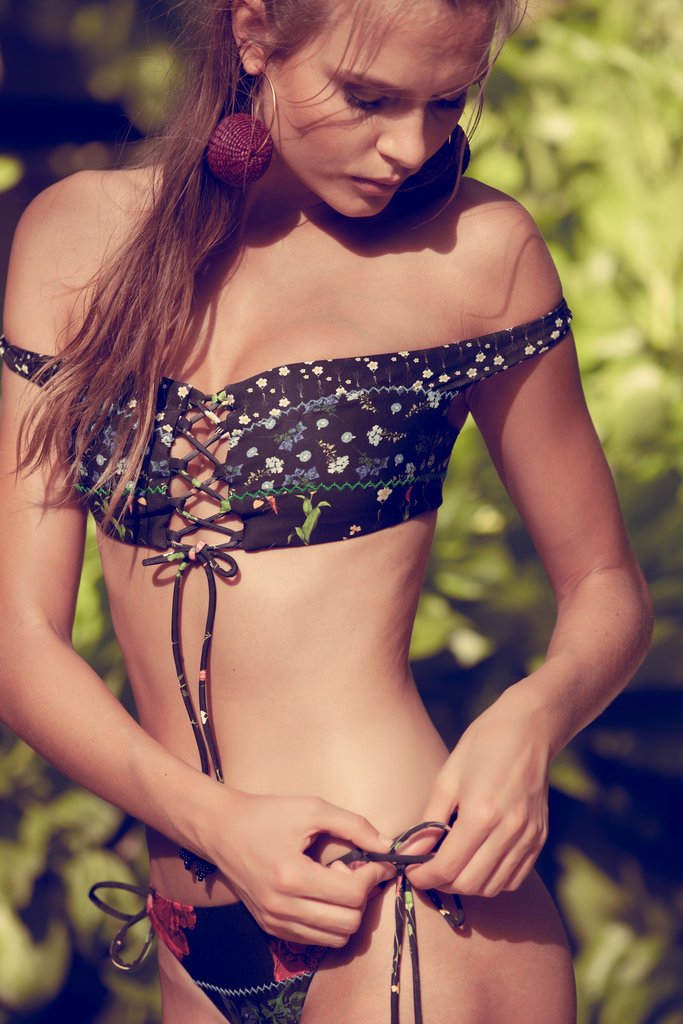 Shop Agua Bendita Swimwear Styles Now
Instagram Influencer Information:
Twitter: @vanessaarielt
Instagram: @vanessaarieltorres
Age: 20 years old
Ethnicity: Puerto Rican & Indo-Trinidadian
Location: South Florida
Major: Neuroscience and Biology
Modeling Agency: Neon Model Management